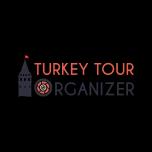 10 Things to Eat in South East of Anatolia
South East Anatolia region is located 'obviously' in the South East of Republic of Turkey and it is bordering Syria and Iraq. Even though the stone throw away neighbors of this beautiful region has been mischievous lately, number of tourists travelling to this part of the country has not decreased dramatically. Turkey is divided into 7 regions regarding the weather conditions and South East of Anatolia is a hot, dry but fertile region thanks to the Euphrates and Tigris Rivers meandering the region hence increasing the productivity. Since history, South East of Anatolia has been ruled by the west and the east for many centuries creating a kitchen telling you stories of those civilizations. Today, many gastronomic trips are made to the South East of Anatolia combining the kitchen with the broad history the region has. Besides the historical monuments, museums and the sites in the region, there are many different and surprising recipes then the rest of Republic of Turkey which will be an experience itself. Here is a list of some stuff that I love to eat in while touring in SE of Turkey that I recommend you to not to miss...
Raw Meatballs in Adiyaman
As the name suggests, raw meatballs are made with raw ingredients such as non-fat lamb meat and fine grinded cracked wheat. It is quite hard to prepare this appetizer even though you don't cook anything. The hardest part is marinating the meat by all the spices and the onion for more than an hour by hand. It is commonly believed that raw meat balls are better if the sweat of your forehead starts dripping into the mixture giving a clue about the challenge. May be they do it to save salt. It is traditionally a hot appetizer and best when served with lettuce and fresh lemons.
Pistachio Baklava in Gaziantep
Baklava is a very strong dessert most famous in Gaziantep city. The flour, pistachio, butter, cream, walnuts and even the water used to make it makes a difference from region to region and you can find the best in Gaziantep city. After preparing the baklava and cooking it, they add sugar syrup to do the last touch however they used to use honey in the past. Don't forget to buy a big pack to eat along the way while travelling in South East of Anatolia.
Stuffed Intestines in Kahramanmaras
Yes it does not sound nice but the taste is amazing. People in South East of Anatolia don't waste their animals and they use every part of the animal in their kitchen. In many of the restaurants Mumbar as locally called is made but the best can be found in Kahramanmaras city which is more famous because of its ice cream. You can find their ice cream in many European cities but mumbar is not easy to find and search well before you travel there.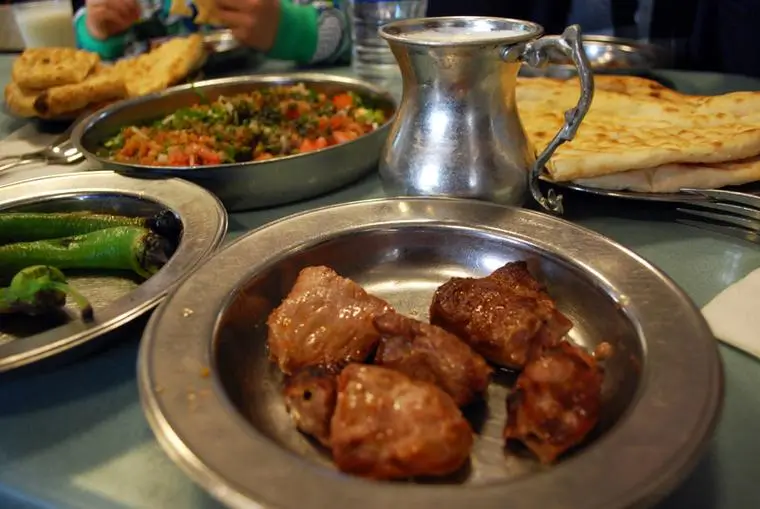 Kusleme in Gaziantep
Kusleme kebab is non marinated lamb meat made from the lamb tenderloin. They cook it on charcoal and serve it in small portions since that part of the lamb cut is not available enough to eat in multiple portions. You will try to come back again for lunch the following day to eat one more Kusleme kebab and the delicious salads served within.
Ali Nazik in Gaziantep
Yes, the kitchen of Gaziantep is amazing and there are too much to taste. Ali Nazik is a kebab made of either grinded lamb or beef, whatever you prefer but most of the restaurants like lamb. The mid-sized cucumber like meatballs are served on top of smoked eggplant mixed with nice lamb milk yoghurt with a touch of garlic in it making it irresistible to dip the pide bread served right next to it. Sometimes I forget that there is a big portion of meatball of Ali Nazik waiting for me by the side of the plate. No worries about the garlic breath, everybody has it in Gaziantep.
Street Kebabs in Sanliurfa
City of prophets is the title of Sanliurfa city but the street kebabs are amazing there. In the afternoon, around the sunset, the street kebab chefs start burning their charcoals and cook many different types of meat. I have mentioned that people in SE don't waste their animals and Sanliurfa proves that I am right. Liver, lamb, beef, chicken, kidney and spleen are in the menus of those people. Small tables and seats are slowly thrown out of the small restaurants and they put the vegetables at your disposal on the table, free to go! They barbecue meat, peppers, tomatoes and eggplant and serve it as you wish within minutes. Don't forget to taste turnip juice with those spicy kebabs which is like the wine companying the food of the French :)
Black Licorice Syrup in Gaziantep
Gaziantep again with its street sold Black Licorice Syrup. I don't want to make any comments of this syrup but it is consumed by a lot of people walking in the streets like water. They call it very refreshing, energy supplying and a good digestion helper. 'Dik kafaya, dik kafaya' the salesman will ask you meaning 'one shot' since sipping this syrup is not easy if you have never tasted it before. Yes, one shot is recommended not giving you an option to like it or hate it.
Stuffed Ribs in Mardin
When in Mardin, there is so much to taste in the narrow old streets as well but this cuisine from Assyrian or Arabian kitchen will be the highlight of your visit there. Lamb ribs are stuffed with cracked wheat, sometimes rice and many different herbs and knit up before being cooked in the oven. It is shown you still knit but served after a long process of opening and removal of all the bones. Don't forget to ask for a caper and a pomegranate salad to company this heavy meal.
Monastic wine of Mardin and Midyat
Unfortunately it will not be the best wine you will ever taste and drink in your life but will take you to a nice journey in to the monastic history of the Assyrians living in the South East of Anatolia; especially around Mardin city and its provinces. You will find out that wine was not consumed and used at is done today. It companied the religious ceremonies, cleaned the water and the wounds yet had many uses in the monasteries so it did not need to be as mild and forgiving as today. Serefe! (Cheers in Turkish)
Liver Kebab in Diyarbakir
Frankly, I cannot give you a very specific reason why to eat liver kebab in Diyarbakir rather than the all other four cities of South East of Anatolia. It is just better here. It must definitely be because of the weather or the happy sheep grazing by the green banks of the Tigris River. The liver is aligned in a small skewer in an order of two pieces of liver with one piece of animal fat and cooked together on charcoal. It is cooked so excessively that sometimes the narrow streets around the 'Ahirkapi' area of Diyarbakir is like on fire. You never consider it as a fire but a smell of the animal fat cooking on the charcoal. Small man-powered cars are converted in the restaurants immediately serving the most delicious liver of the country. You may not be a fan of liver but give it a shot, it will worth it.
------------------------------------
------------------------------------
Would you like us to tailor you a private itinerary, including South East Anatolia? Benefit from our expertise. We offer tailor-made tours to Turkey for all interests and desires, from romantic honeymoons and scenic self-drive road trips to photo tours with experienced photographers and cultural tours in major destinations. We arrange everything for your Turkey Tours, including hotel bookings, airport transfers, guided tours, and top-notch experiences. We want you to have a great time in Turkey and make sure your trip is a memorable one as we have escorted so many tours in Turkey personally. Imagine dealing with only one person for all your travel details, receiving customized itineraries and recommendations which will suit exactly your travel interests. Contact Turkey Tour Organizer to get a personalized day by day itinerary for your trip to Turkey.
Kadir Akın
Kadir Akin is the managing partner of Turkey Tour Organizer Co. and a highly skilled travel advisor and tour guide. Kadir has worked in the tourist sector for more than 15 years, and he has a wealth of experience in trip planning and offering first-rate guiding services.
Whether visiting historical sites, trying the food, or finding off-the-beaten-path jewels, traveling with Kadir as your tour guide ensures a genuine and educational experience. Anyone looking for an insider's view of Turkey will find him to be a reliable and sought-after guide thanks to his love for his country and commitment to his profession.
Frequently Asked Questions