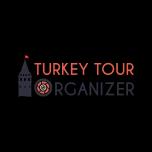 Aphrodisias - Ancient Sculpture Center
Like defining woman in a single blog page is impossible, defining the ancient city of Aphrodisias in a single blog page is impossible as the city itself was built for the most beautiful deity of the ancient Greek Era; Aphrodite. Greeks in the ancient times not only built temples to the deities or the most powerful females of the Greek Pantheon. They have also buil cities to honor them like the capital of Greece today; Athens. While we see the ancient city of Hierapolis in western Turkey built for a wife, we have Aphrodisias in Turkey that could be the only place on planet earth to be erected for the most beutiful deity of the Greeks.
Aphrodisias had three different names before deserving the title of Aphrodite and was changed to 3 more names after the 6th Century AD. Geyre is the final official name of the settlement. Ara Guler, world famous Turkish photographer and his designated driver sought shelter in Geyre in a rainy night considering they were lost. What Ara Guler saw in the morning was beyond imagination. The village they stayed was exactly sitting on an ancient city. People have re-used the ancient coloumn bottoms and tops and sarcophagi to build their own houses, sitting areas for village square and even iniside their mosque. Sarcophagi were used to produce grape juice or olive oil by the villagers until the area was nationalized by the goverment. Prof. Dr. Kenan Erim was the head archeologist of the area contributing a lot to the cities world fame today. Due to this devotion, he was honored to be buried inside Aphrodisias. You can find his grave nearby the green are by the Tetrapylon.
The city was named Aphrodisias after the temple of Aphrodite was included to the city plannning. The highlights of the open air museum today are the Sebasteion, Theater, Roman Baths, Agora, Odeon, Temple of Aphrodite, Stadium and the Tetrapylon. Especially the Tetrapylon and the Stadium are like the best examples reached today from the Greek Era in the world. During the late Hellenistic and Roman period, the sculptures of Aphrodisias were seen throughout Anatolia to Europe as the marble workshops of Aphrodisias started to produce peerless works of art. The marble quarries were easily accessible from Aphrodisias making the sculptors reach infinite raw meterials to work on. The workshops of Aphrodisias were attracting sculptors from all over the Greek and Roman world to master their skills. When you walk in the museum of Aphrodisias after a tour in the ancient city, you will be able to realize the craftsmenship the artists of Aphrodisias had.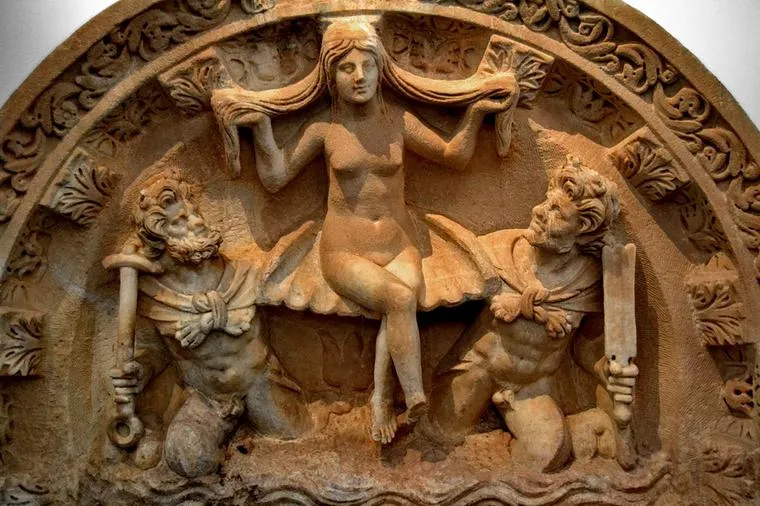 Please don't forget to pay a visit to the building devoted to the excavations and discovery of Aphrodisias. You will be able to find impressive photos Ara Guler made during his discovery. Even though he is well known for black and white photos, Just for Aphrodisias, he made colored pictures as the Americans wanted to see pictures with colors to publish Aphrodisias in papers. We cannot ignore the contributions Ara Guler have made to Aphrodisias and Prof. Dr. Kenan Erim as well. Ara Guler liked to tease Kenan Erim with saying; He could only have seen Aphrodisias in his dreams if it weren't me taking those pictures.
Please see above picture of the Sebasteion with some of the village houses used by the archaeologists today. It gives you an idea how the city was underneath the Geyre village before. There is a restaurant nearby the ancient city whose owner was born in a house located on top of the theater. Can you imagine a chicken house established to a half buried ancient Greek theater? Photos of these impressive coincidences and records are located inside the building devoted to Ara Guler today. If you have Pamukkale and Ephesus in your itinerary, you must add Aphrodisias to your program. You will have to wake up early one day to get the best of the ancient city but it will worth the drive and lack of sleep. You will find yourself deeply examining the craftsmenship of the statues in Aphrodisias.
For those with a long time frame around Pamukkale and Ephesus area, our daily Aphrodisias and Pamukkale tour can easily take you to a whirlwhind tour of both ancient cities which have breaathtaking architecture, views and impressive sculpture.
------------------------------------
Would you like us to tailor you a private itinerary including Ancient Sculpture Center - Aphrodisias? Benefit from our expertise. We offer tailor-made tours to Turkey for all interests and desires, from romantic honeymoons and scenic self-drive road trips to photo tours with experienced photographers and cultural tours in major destinations. We arrange everything for your Turkey Tours, including hotel bookings, airport transfers, guided tours, and top-notch experiences. We want you to have a great time in Turkey and make sure your trip is a memorable one as we have escorted so many tours in Turkey personally. Imagine dealing with only one person for all your travel details, receiving customized itineraries and recommendations which will suit exactly your travel interests. Contact Turkey Tour Organizer to get a personalized day by day itinerary for your trip to Turkey.
Erkan Dülger
Erkan Dulger, a seasoned expert in the travel and tourism sector, has devoted more than 17 years of his life to planning wonderful journeys for people all over the world. Erkan has made a great career as a travel consultant and prosperous business owner. He was born with a deep enthusiasm for exploration and a desire to introduce people to beautiful places.
Erkan traveled to the United States in search of knowledge and practical experience, where he spent four years honing his craft while working at various hotels. He was able to better comprehend the complexities of the travel industry as well as the various demands and expectations of travelers thanks to this priceless experience.
Erkan had always dreamed of starting his own travel business, one that would reflect his passion for crafting extraordinary travel experiences. Erkan founded his own travel company in 2015 after realizing his dream via intense determination and strong faith in his abilities.
Frequently Asked Questions