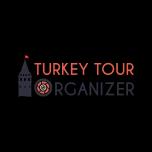 Olympos Ancient City is named after the legendary Olympos Mountain in Anatolia. According to a Greek legend, Bellorophontes slaughtered Chimera and buried this creature under the ground nearby Mound Olympos of South West Anatolia. Chimera's burning breath is still seen among the rocks where the animal was buried nearby Olympos Ancient City. The Olympiade Fire was believed to be collected from Olympos every year, rock gas leaking to the surface and chemically burning after meeting with oxygen. It is believed that when the Olympic games were transported to the Greek mainland, they forgot to take the fire and set up a new one by using sunbeams in the legendary Olemp Mountain like today.
Where is Olympos?
Olympos is located in the vicinity of Kumluca city of Antalya province. It is only 1,5 hours away from Antalya city center. However, this may go up to 2,5 hours if you are using public transportation. There is a narrow winding road going down to the area of the pensions. Transportation in between the bottom and the top main road is managed by the locals there. As a result, if there are not enough passengers in their minivan, they may wait for more people to come up and get seated. Hitchhiking is very popular among the visitors of Olympos so please pick up those backpackers if you are driving your own car. Please kindly be advised that the Olympos accommodations are located behind the Olympos Ancient City. You will have to walk through the ancient city every day to reach the cool waters of the Olympos beach. Olympos is preferred by backpackers and budget travelers so if you are looking for more comfort, luxury, and space, you should try the beach next door named Cirali.
History of Olympos Ancient City
Olympos ancient city is first mentioned in history in the 2nd Century BCE. The ancient city was built in a very secure narrow gorge underneath the legendary Olympos Mountain. A stream separates the valley and the city was established on both sides of the water. The flow of water was taken under control thanks to the impressive infrastructure built by the engineers of Olympos. The end of the stream was the port of the Ancient Olympos. Olympos was a member of the Lycian League until the beginning of the 1st Century BCE until it was invaded by the pirates along with the other coastal cities of the region like Phaselis and Corycus. Roman armies invaded Olympos in 78 BCE under the command of Publius Servilius Isauricus. Cicero describes the city as a rich and intricately decorated place. The city was called Hadiranapolis after the visit of Emperor Hadrian but Olympos faded from history by the 15th Century.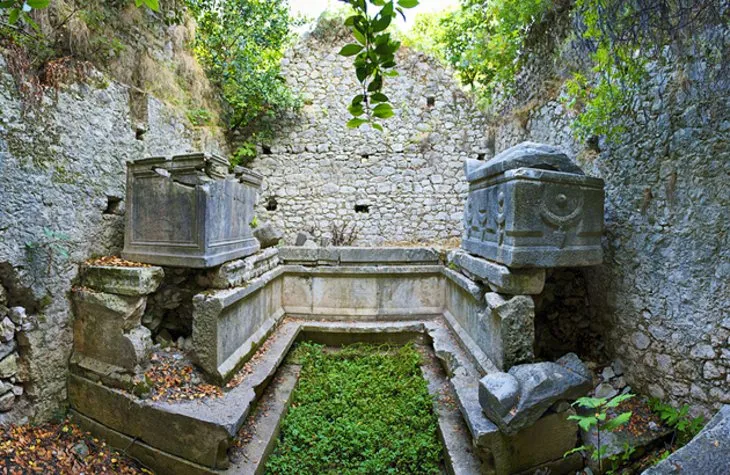 What to do in Olympos?
The majority of the visitors of Olympos take a break there in the middle of their long Turkey trips. Small and cozy pensions and hostels of Olympos are built in the woods which are very peaceful after a long week in Istanbul and Cappadocia. There is no rush, fresh air beautiful food and the ancient city is a stone throw away from the accommodations which makes it very easy to explore new things after a nice breakfast. Besides nature and the ancient city, you can rent a bike and cycle to the entrance of Chimera where you are able to see the natural burning rock gas coming from the underground. it is better to go there after the sunset and a bottle of wine or beer with Turkish sausages is recommended to take to cook them on natural fire. You can also rent a kayak at the beach and visit the caves by the Mediterranean Sea. There are daily boat trips departing every day during the high season in Olympos which can be an interesting and entertaining activity if you are staying for a few days in the Olympos area.
------------------------------------
Would you like us to tailor you a private itinerary, including Olympos Ancient City? Benefit from our expertise. We offer tailor-made tours to Turkey for all interests and desires, from romantic honeymoons and scenic self-drive road trips to photo tours with experienced photographers and cultural tours in major destinations. We arrange everything for your Turkey Tours, including hotel bookings, airport transfers, guided tours, and top-notch experiences. We want you to have a great time in Turkey and make sure your trip is a memorable one as we have escorted so many tours in Turkey personally. Imagine dealing with only one person for all your travel details, receiving customized itineraries and recommendations which will suit exactly your travel interests. Contact Turkey Tour Organizer to get a personalized day by day itinerary for your trip to Turkey.
Erkan Dülger
Erkan Dulger, a seasoned expert in the travel and tourism sector, has devoted more than 17 years of his life to planning wonderful journeys for people all over the world. Erkan has made a great career as a travel consultant and prosperous business owner. He was born with a deep enthusiasm for exploration and a desire to introduce people to beautiful places.
Erkan traveled to the United States in search of knowledge and practical experience, where he spent four years honing his craft while working at various hotels. He was able to better comprehend the complexities of the travel industry as well as the various demands and expectations of travelers thanks to this priceless experience.
Erkan had always dreamed of starting his own travel business, one that would reflect his passion for crafting extraordinary travel experiences. Erkan founded his own travel company in 2015 after realizing his dream via intense determination and strong faith in his abilities.
Frequently Asked Questions