Day 1

Arrive in Izmir Airport and start touring Ephesus ancient city and the Selcuk Museum right away before checking in your hotel in Kusadasi.

Day 2

Discover the environs of Ephesus; The House of The Virgin Mary, Cathedral of Saint John, and Isabey Mosque.

Day 3

Enjoy the beautiful sculptures of Aphrodisias and walk over the white travertines of Pamukkale after swimming in the ancient pool of Cleopatra.

Day 4

Leave your resort and spa after breakfast to transfer to Izmir or Denizli airports for a flight back home or your next destination.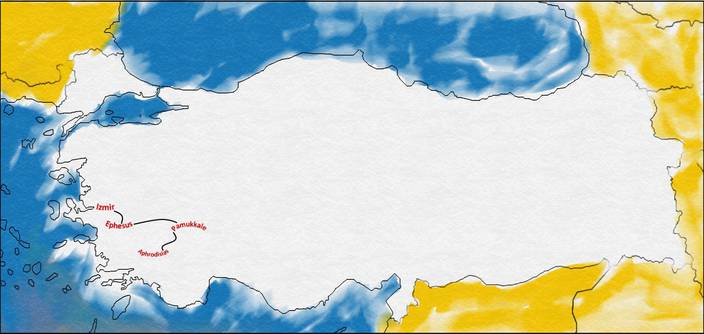 The Ancient City of Ephesus
Selcuk Museum
Waterpark escape with your family
Old Greek Village Sirince
Terrace Houses of Ephesus
The House of The Virgin Mary
Ancient City of Aphrodisias
Stadium of Aphrodisias
Hierapolis Ancient City
White Travertines of Pamukkale
Day 1 – Arrival to Ephesus, Kusadasi
Our guide and driver will meet your family at Izmir airport or Kusadasi port and will take you on a comprehensive tour of the ancient city of Ephesus. You will visit the Selcuk Museum to complement your Ephesus visit and have lunch in a beautiful restaurant on the way to the old Greek village of Sirince. Spend the afternoon at leisure shopping in the small shops in the village. We will drop you at your waterfront hotel in Kusadasi overnight.
Day 2 – The House of The Virgin Mary
After breakfast at your hotel, our guide and driver will take you to the House of The Virgin Mary, which is located on a hill nearby Ephesus, offering spectacular views of the turquoise Aegean Sea. You will continue to the Cathedral of Saint John and the Isabey Mosque before stopping by one of the Seven Wonders of the World, The Artemis Temple. You can spend the rest of the day in a waterpark or on the beach with your family then. Overnight in Kusadasi.
Day 3 – Aphrodisias and Pamukkale
You will be picked up relatively early in the morning for a visit to one of the most well preserved ancient cities of Anatolia; Aphrodisias. After exploring the ancient city and visiting the impressive sculpture museum located in Aphrodisias, you will have lunch nearby and drive to Pamukkale. The Hierapolis ancient city lies above the world-famous white travertines of Pamukkale. We recommend a walk over the travertines. You can swim in Cleopatra's ancient pool before exploring the Museum of Hierapolis in the ancient Roman baths. We will transfer you to your resort & spa hotel after the tour for your overnight.
Day 4 – Departure
After having breakfast at your hotel, our driver will pick you up for a transfer to Denizli or Izmir airports to catch a flight back home or for your next destination.
--------------------------------------------------------
Would you like us to customize Fam Trip Ephesus and Pamukkale itinerary for you? Imagine dealing with only one person for all your travel details, receiving private itineraries, and recommendations that will fit your travel interests.
Contact
Turkey Tour Organizer to get a personalized day by day itinerary for your trip to Turkey. Benefit from our expertise. We offer tailor-made tours to Turkey for all interests and desires, from romantic honeymoons and scenic self-drive road trips to photo tours with experienced photographers and cultural tours in major destinations. We arrange everything for your
turkey tours
, including hotel bookings, airport transfers, guided tours, and top-notch experiences. We want you to have a great time in Turkey and make sure your trip is a memorable one as we have escorted so many tours in Turkey personally.
We'd love to hear from you!
Please contact us if you would like book this tour program. We as TurkeyTourOrganizer can also revise the itinerary regarding to your additional requests. If you have an urgent question we recommend you to call us.
Phone (24/7): 009 0384 341 4740
Drop us a line