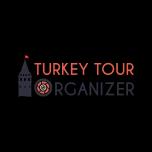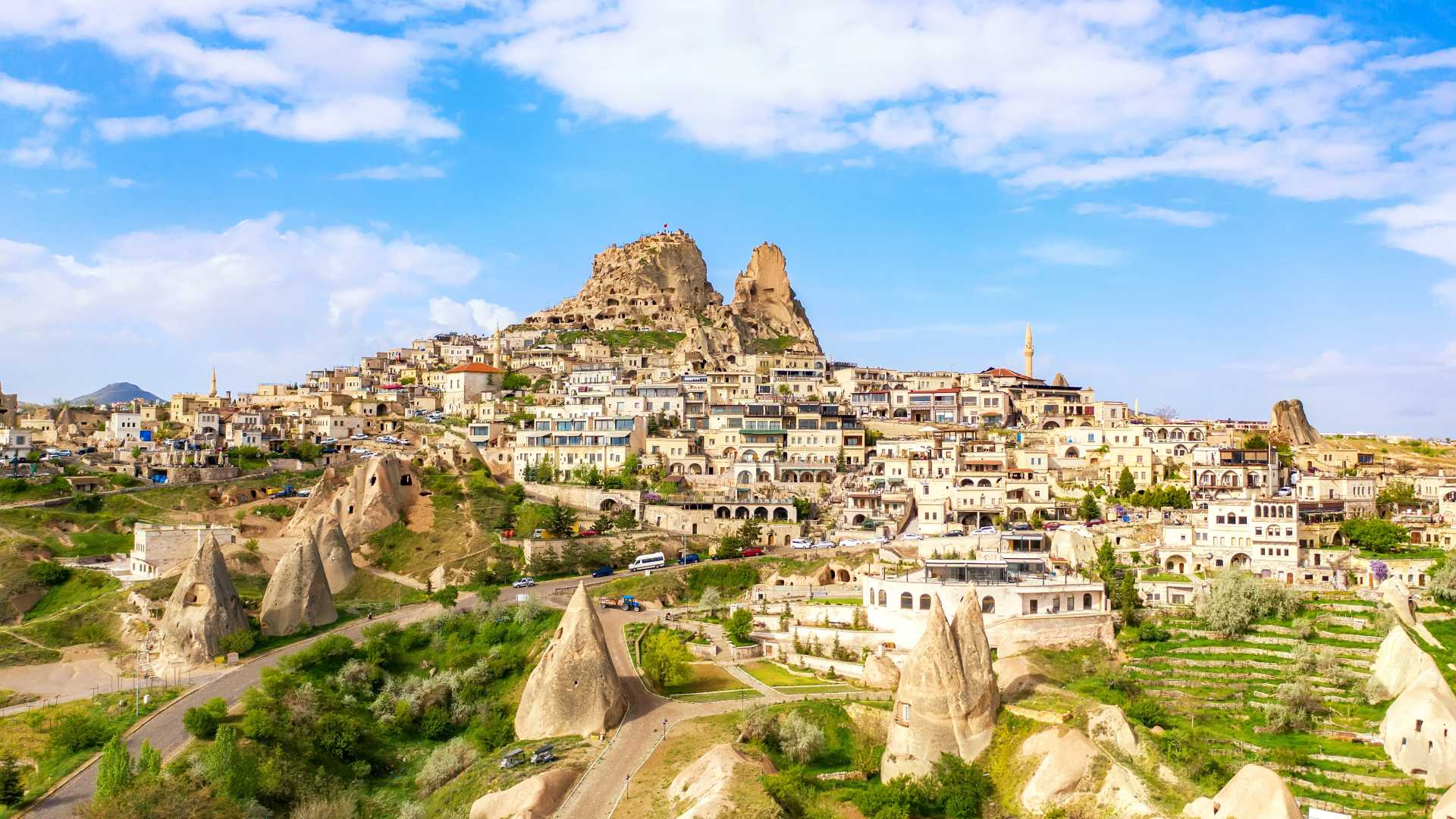 Uchisar Castle - Cappadocia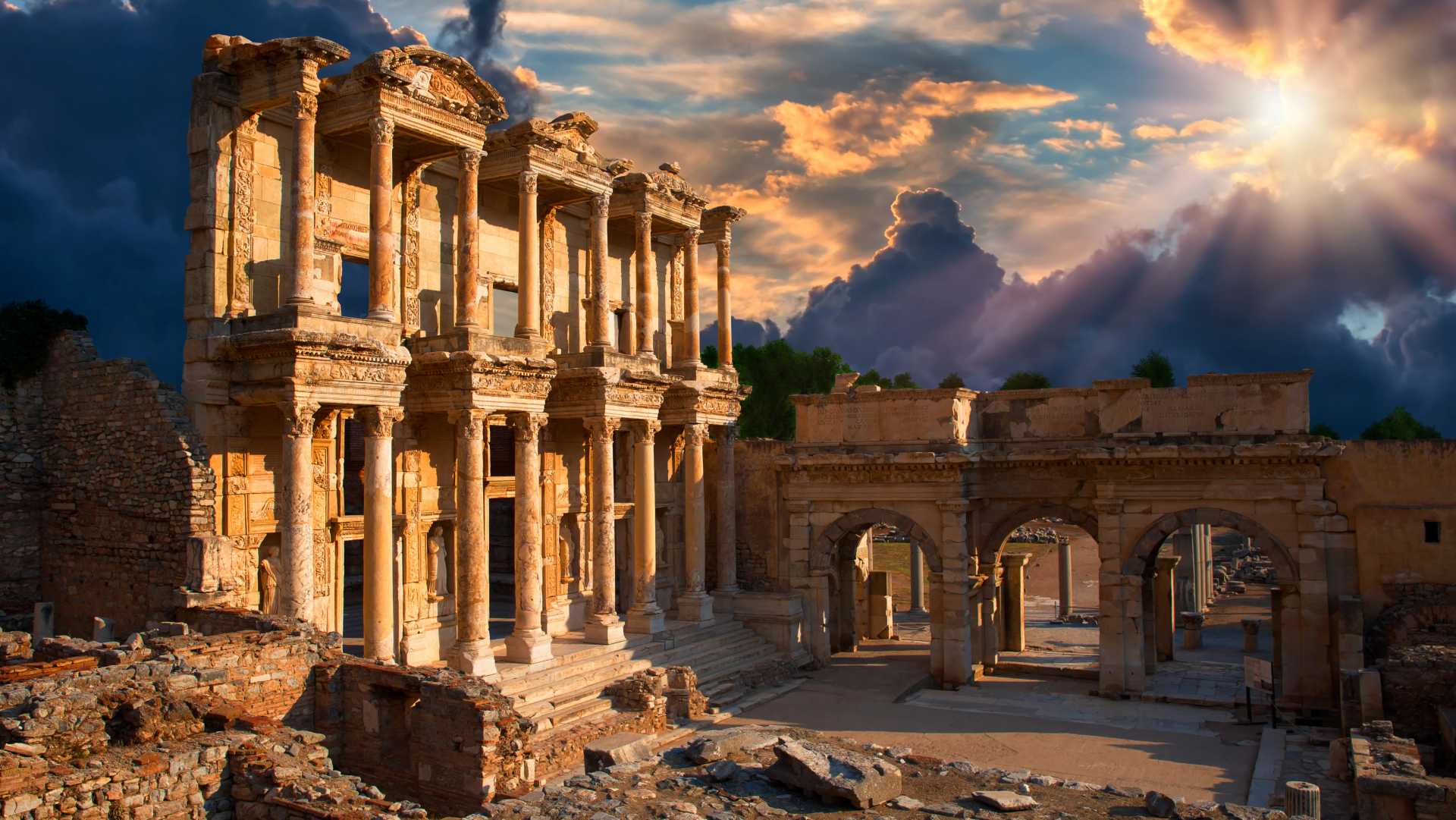 Library of Celsus - Ephesus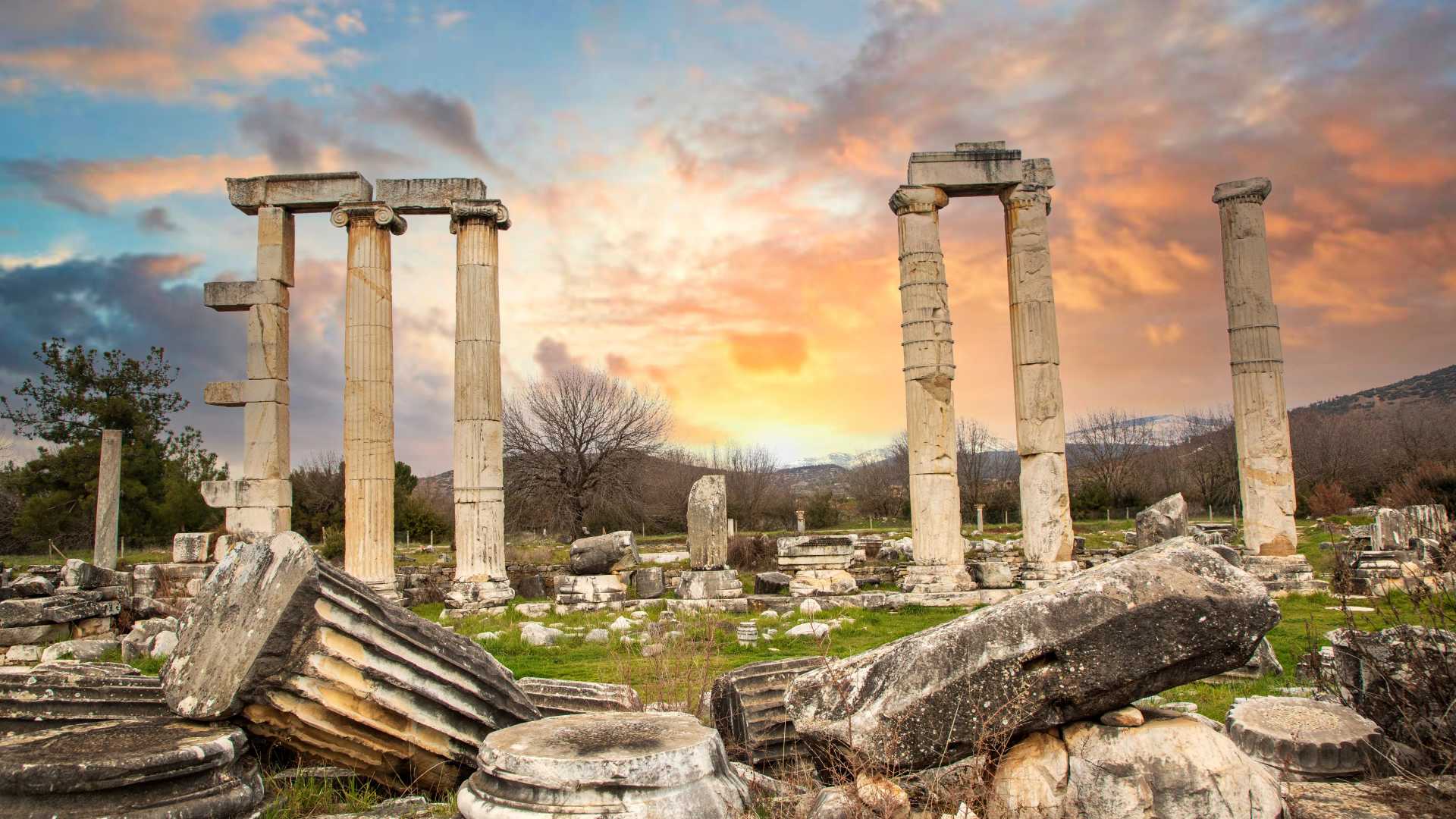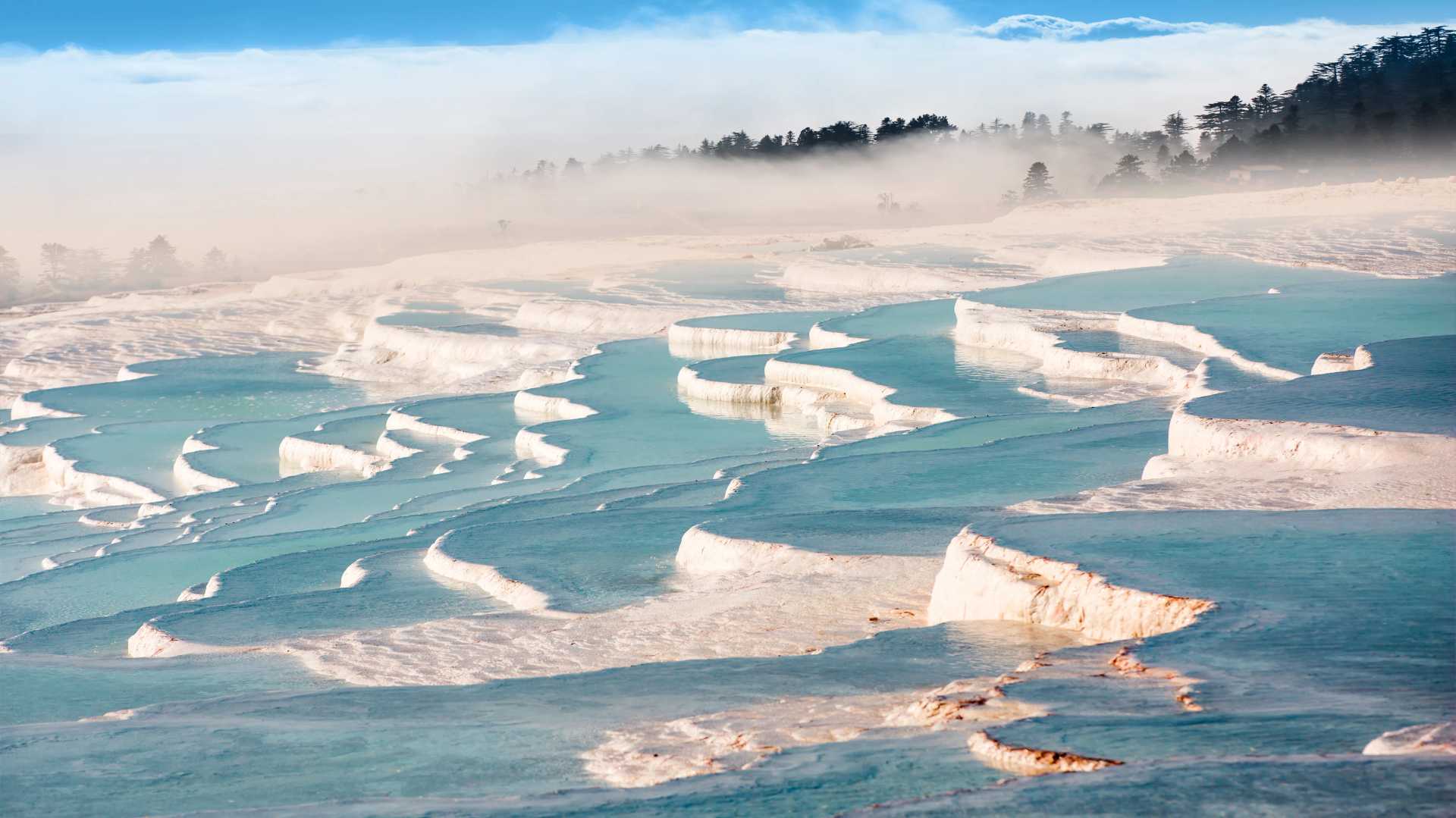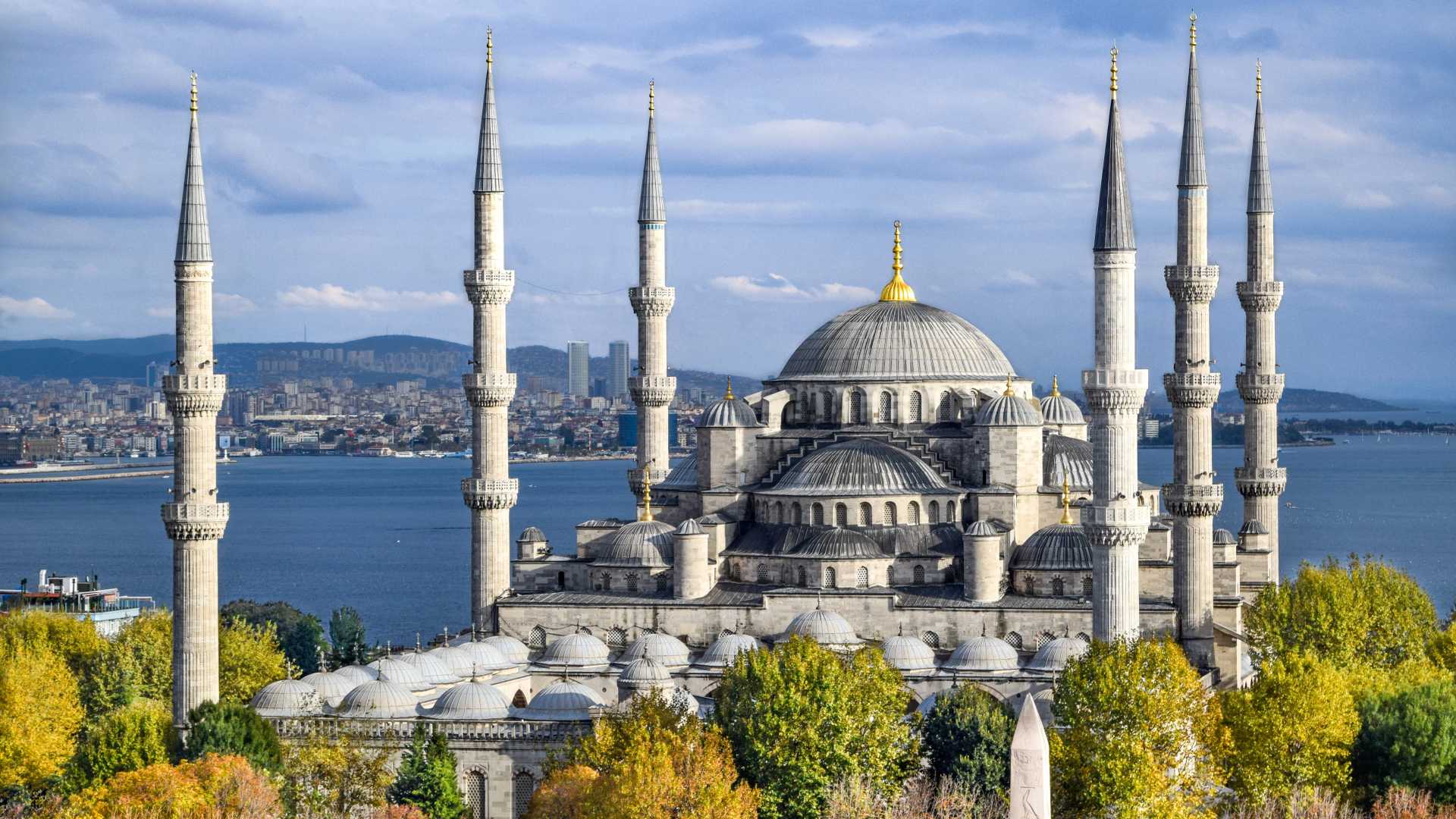 10 Days Fam Trip in Turkey
Duration: 10 Days / 9 Nights
Destinations: Istanbul, Cappadocia, Izmir, Ephesus, Aphrodisias, Pamukkale
Travel Style:
Places You'll See
Uchisar Castle from Pigeon Valley
Derinkuyu Underground City
Library of Celsus - Ephesus
Hippodrome of Constantinople
Tour Map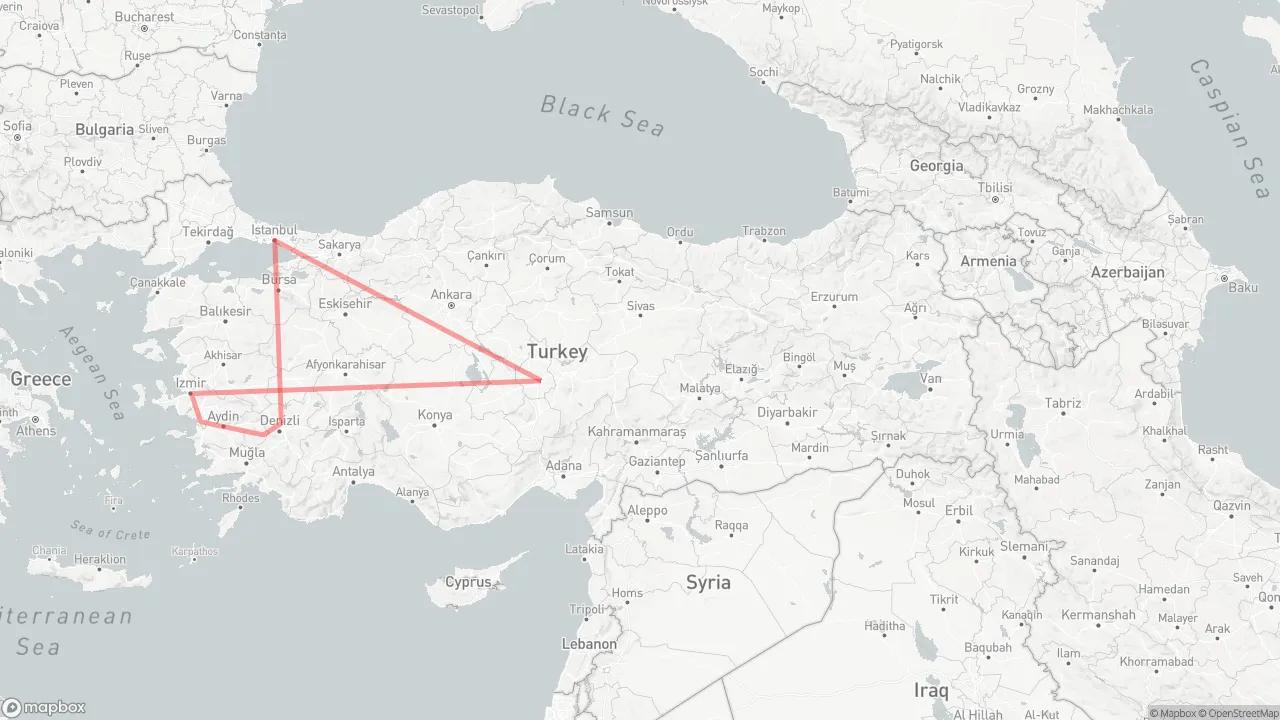 Tour Plan
Day 1 -

Arrival to Turkey and flight to Cappadocia

Catch your connection flight to Cappadocia from Istanbul upon arrival and meet your guide and driver at one of the airports of Cappadocia. You will drive to your cave hotel for a rest and take an orientation tour of Cappadocia before dinner in a nice local restaurant.
Day 2 -

Hot Air Balloon Flight in Cappadocia

You will be picked up by our driver early in the morning for an unforgettable experience with your family. After having a light breakfast at the balloon company's headquarters, you will continue with your pilot to the designated take-off area of your hot air balloon to watch the process of preparations and inflation of your hot air balloon. After taking off, you will be a part of the gentle Cappadocian wind and float over the most impressive landscape of the world. You will celebrate your landing with fresh juices and sparkling wine, and we will transfer you back to your hotel for your second breakfast. Our guide and driver will meet you at your hotel around noon and take you to the bottom of the land, this time by taking you to one of the underground cities of the Cappadocia region. You will descend into the caves carved by the local people to shelter from the invaders of ancient times and get the feeling of the harsh living conditions of the Cappadocians. After exploring the wineries, storages, and living quarters of the underground city, you will continue to an entire old Greek village for lunch with a local family. Lunch will be followed by a walk in the old Greek village of Mustafapasa to see the beautiful Greek architecture in the stone houses still surviving in the region. Formerly called Sinasos, Mustafapasa has the most impressive Greek houses in the region with beautiful wooden doors. You will continue to the small monastic settlement of Keslik and the only Roman ruins in Cappadocia, Sobesos excavation site. You will get back to your hotel after seeing the city hall and the Roman baths of Sobesos to rest.
Day 3 -

Keep discovering Cappadocia

You will meet our guide in the morning at your hotel for a comprehensive Cappadocia tour. You will first visit Ortahisar town to take spectacular pictures of this old Greek village, which will remind you of the villages in the Greek Islands. Your next stop will be the Open Air Museum of Goreme to see beautiful rock-cut Byzantium churches with centuries-old frescoes depicting the life of Jesus Christ and the local saints who lived in the region. After having a local lunch in Goreme town, you will visit the Monks (Pasabag) Valley, Zelve Open Air Museum, and Devrent (Imagination) Valley to see the beautiful fairy chimneys and explore the troglodyte dwellings of the Cappadocians. After spending some time at leisure in Avanos town, you will be dropped back at your hotel.
Day 4 -

Flight to Izmir and Ephesus Tour

Our driver will pick you up in the morning for a direct flight to Izmir Adnan Menderes Airport. Our guide and driver will be waiting in front of the domestic arrivals in Izmir to take you on a Hellenistic journey in Ephesus. After an hour of driving, you will arrive at Ephesus Ancient City and explore the ancient city from its Theater to The Library of Celsus. After visiting the Terrace Houses, which reflect the rich's sophisticated lifestyles in the Hellenistic and Roman times, you will see the Temple of Hadrian, Fountain of Trajan, and the Odeon of the city. Our driver will pick you up from Ephesus and take you to the House of The Virgin Mary to visit the shrine of the mother of Jesus Christ, which was blessed by the last four popes after the discovery of the houses according to the visions of Anne Catherine Emmerich. After having lunch in a local restaurant in Selcuk town, you will visit the Museum of Selcuk to complement your visit to Ephesus. You will see one of the Seven Wonders of the World nearby Selcuk town, the Artemis Temple, and can walk to the Mosque of Isabey and the Cathedral of Saint John in between the shallow Aegean houses of Selcuk. Our guide will take you to Sirince village for a free afternoon and your accommodation in a nicely restored old Greek House.
Day 5 -

Aphrodisias and Pamukkale-Hierapolis

This will be the longest day of your whole Turkey trip. After driving to the ancient city of Aphrodisias from Sirince village, you will explore the best-preserved ruins of our country. A world-famous Turkish photographer accidentally discovered Aphrodisias when he took pictures of the locals in the area. He was amazed by a village located in the middle of Aphrodisias's ancient city, which gave the area international attention. After exploring the ruins and seeing Anatolia's most beautiful sculptures in Aphrodisias's closed museum, you will continue to Pamukkale town to have lunch overlooking the world-famous white travertines. Our guide will assist you in the Necropolis and the Pools of Cleopatra that you can swim. After visiting the Museum of Hierapolis to see the best-preserved sarcophagus found during the excavations in the ancient site, you can walk on the cotton-like white travertines of Pamukkale. Our guide and driver will take you to Denizli Airport then for an afternoon flight to Istanbul.
Day 6 -

Cruise the Bosporus of Istanbul

After a free morning in your hotel, our guide and driver will pick you up for an experience only Istanbul can give. You will cruise in between Asia and Europe in the same city, sipping your beverages. The waterfront mansions and palaces will fill up your memory cards, reflecting Istanbul's city's old and new prosperity. You will leave your boat in the Karakoy area to have lunch and taste the world-famous pistachio baklava dessert of Anatolia. One of the world's oldest subways will take you to the Istiklal Street, which is a pedestrian-only street and very authentic as well, thanks to the nostalgic tram still carrying passengers from the Tunnel to the Taksim square. Catch the rhythm of life in Istanbul while walking the Istiklal Street and try Turkish Delights in one of Istanbul's oldest shops. Our guide will meet our driver and will take you back to your hotel.
Day 7 -

Walk in the old city of Istanbul

Our guide will meet you in the morning at your hotel for a walking tour in the old city of Istanbul. You will first visit the Blue Mosque, which is making the sky jealous thanks to the blue tiles decorating the walls and the blue engravings in the domes of the Grand Mosque of Sultan I Ahmed. You will be able to visit the Topkapi Palace then to see the glamorous life of the Ottoman Sultans and the ruling place of one of the biggest empires in the world. The Harem apartments show us how they raised Ottoman Princes before being sent to the Ottoman states' capitals in Anatolia. After visiting the Treasury and the Chambers of Holly Relics, you will have lunch in the palace's terraces like the sultans, overlooking Asia from Europe. Your next stop will be the Church of Hagia Sophia, which is Greek for 'holy wisdom.' It is a 14 Century old structure, a great witness to the history of the Greeks, Byzantiums, Ottomans, and the Republic of Turkey. Byzantiums used it as a church, and the Ottomans used it as a mosque before Ataturk converted it to a museum. You will see the Byzantium Mosaics' best examples covering the walls and dome of Hagia Sophia before visiting the Underground Cistern Yerebatan. There are many cisterns in the old city of Istanbul, and Yerebatan is among the biggest ones, and they were the water supplies of the palaces and houses of the Byzantiums. Ottomans have used the waters for irrigating Istanbul's gardens, and some of them are venues, and some are museums today awaiting their visitors.
Day 8 -

Istanbul on Foot and Turkish Bath

Our guide will take you on a journey in food today in Istanbul. After having breakfast at your hotel, you will walk to the Eminonu area to see the spice market and learn how different kitchens blended in Istanbul to create the current Turkish kitchen. You will travel in time by walking the unbeaten back streets of the old city of Istanbul and taste amazing street food and hidden tastes of the city, which are missed by almost all tourists coming to Turkey. After having a light lunch with our guide, you will be dropped to a traditional Turkish bath to get rid of the week-long tiredness of traveling in Turkey. You will be assisted back to your hotel after a nice relaxing massage.
Day 9 -

Day at leisure in Istanbul

You are free to explore the Grand Bazaar on your own today. The oldest and biggest still functioning bazaar of Turkey is dating back to the Ottomans, and it is among the 100 places to see before you die. You can explore the bazaar from top to bottom on your shopping around. If you are interested, we can arrange a treasure hunt, which is a very memorable experience to do with your family, which reduces the energy of shopping in the Grand Bazaar. You can have lunch in a nice local restaurant in Grand Bazaar, and our guide can take you to the best-mosaicked church in Istanbul, Chora. You will be dropped back to your hotel after seeing the city walls in Istanbul dating back from the Byzantiums for your last night in Turkey.
Day 10 -

Departure

Our driver will pick you up from your hotel and will take you to one of the airports of Istanbul for your flight back home or for your next destination.
---
Would you like us to customize Explore 10 Days Fam Trip in Turkey itinerary for you? Imagine dealing with only one person for all your travel details, receiving private itineraries, and recommendations that will fit your travel interests. Contact Turkey Tour Organizer to get a personalized day by day itinerary for your trip to Turkey. Benefit from our expertise. We offer tailor-made tours to Turkey for all interests and desires, from romantic honeymoons and scenic self-drive road trips to photo tours with experienced photographers and cultural tours in major destinations. We arrange everything for your turkey tours, including hotel bookings, airport transfers, guided tours, and top-notch experiences. We want you to have a great time in Turkey and make sure your trip is a memorable one as we have escorted so many tours in Turkey personally.
---
10 Days Fam Trip in Turkey
Duration: 10 Days / 9 Nights
Destinations: Istanbul, Cappadocia, Izmir, Ephesus, Aphrodisias, Pamukkale
Travel Style:
Contact Us
Frequently Asked Questions
Why Choose Us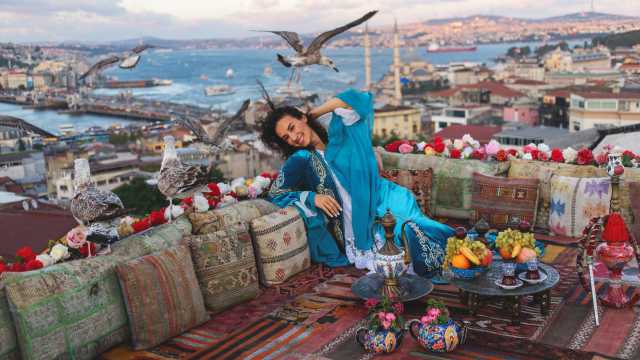 We Develop It into Something Extraordinary
We can obtain exclusive amenities that you are unable to get on your own, such as complimentary breakfast, spa credits, or hotel upgrades. We understand the importance of planning an extraordinary trip, from the big-picture details (where to travel and when) to the details that count (knowing where to find the most delicious pottery kebab in Cappadocia).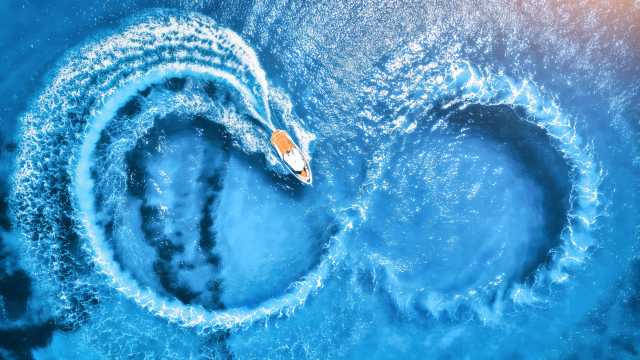 We Know Turkey in Deep Details
It makes sense to commit your most valuable asset - your time - to a seasoned travel advisor, just as you might utilize a financial planner, an interior designer, or a personal shopper. We spend a lot of time traveling, looking for accommodations, getting to know our tour guides better, and discovering the top attractions.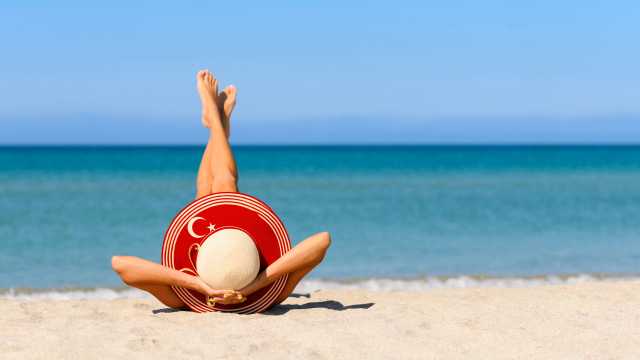 We Discover Your Travel Mindset
We are aware of your top priorities and those of your traveling companions. You could want to sign up for a private tour or a culinary lesson, or you might not want to leave the resort's pool at all! Maybe you want to use travel to teach your children, organize a memorable vacation for your anniversary, or gather your loved ones together to commemorate a significant birthday. We'll have a ton of ideas about what would suit you the best.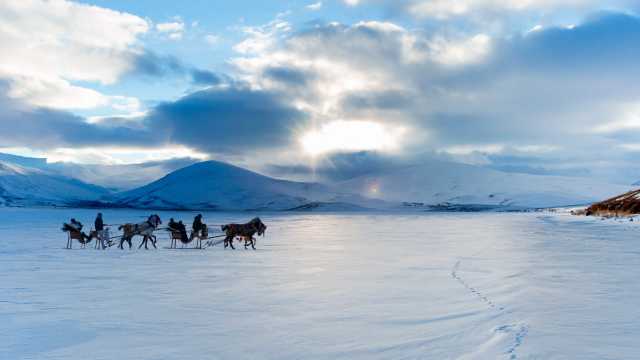 We Can Widen Your Perspective
We will assist you in producing original ideas for where to go and what to do. Istanbul, Cappadocia, and Ephesus will always be well-liked. But we also know the best ways to enjoy locations including Pergamon, Troy, Pamukkale, Antalya, Southeast Turkey, and many more popular travel destinations. We can arrange your upcoming ideal vacation or weekend escape together.