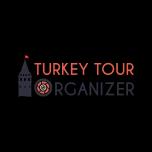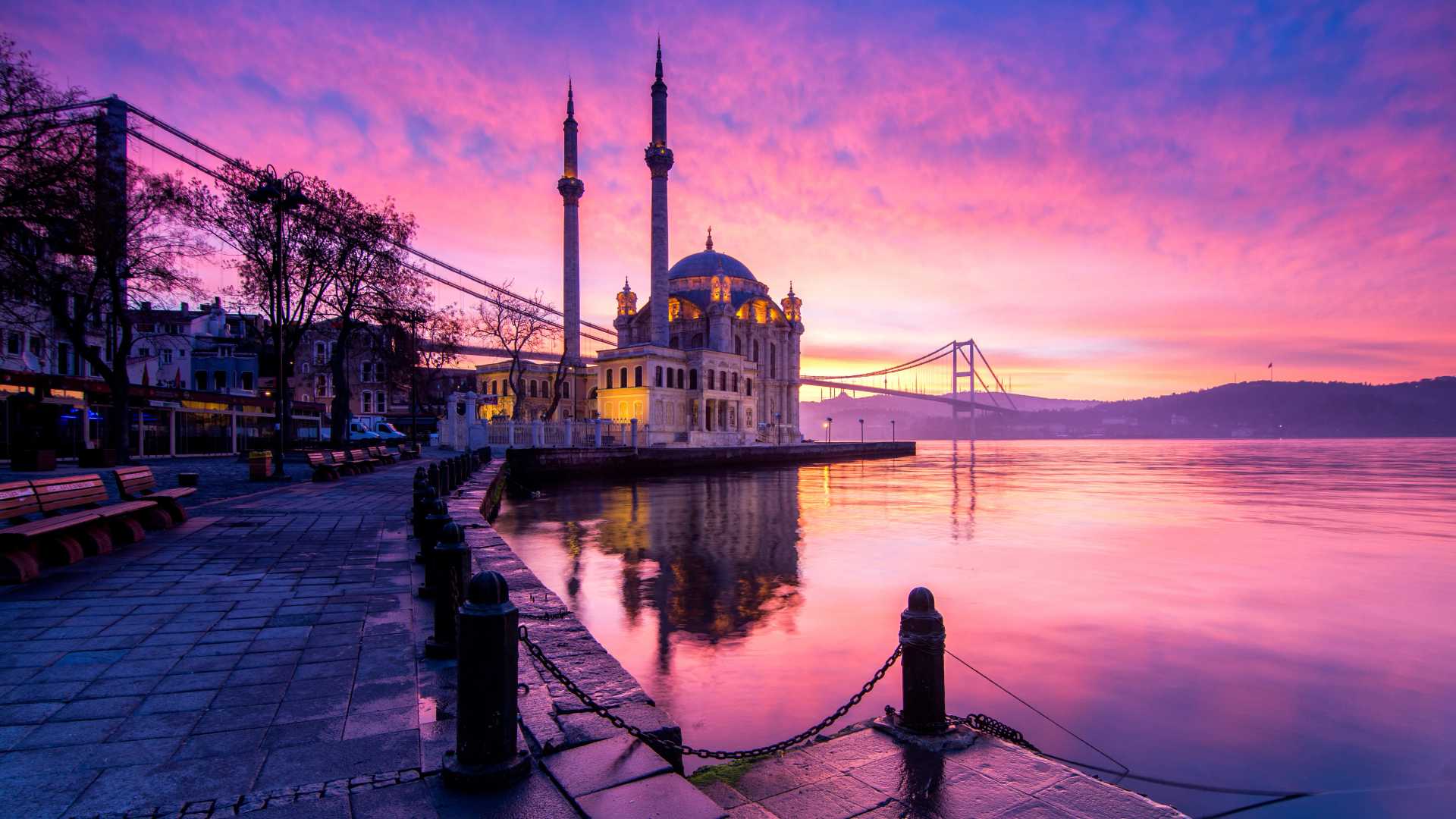 Ortakoy Mosque - Istanbul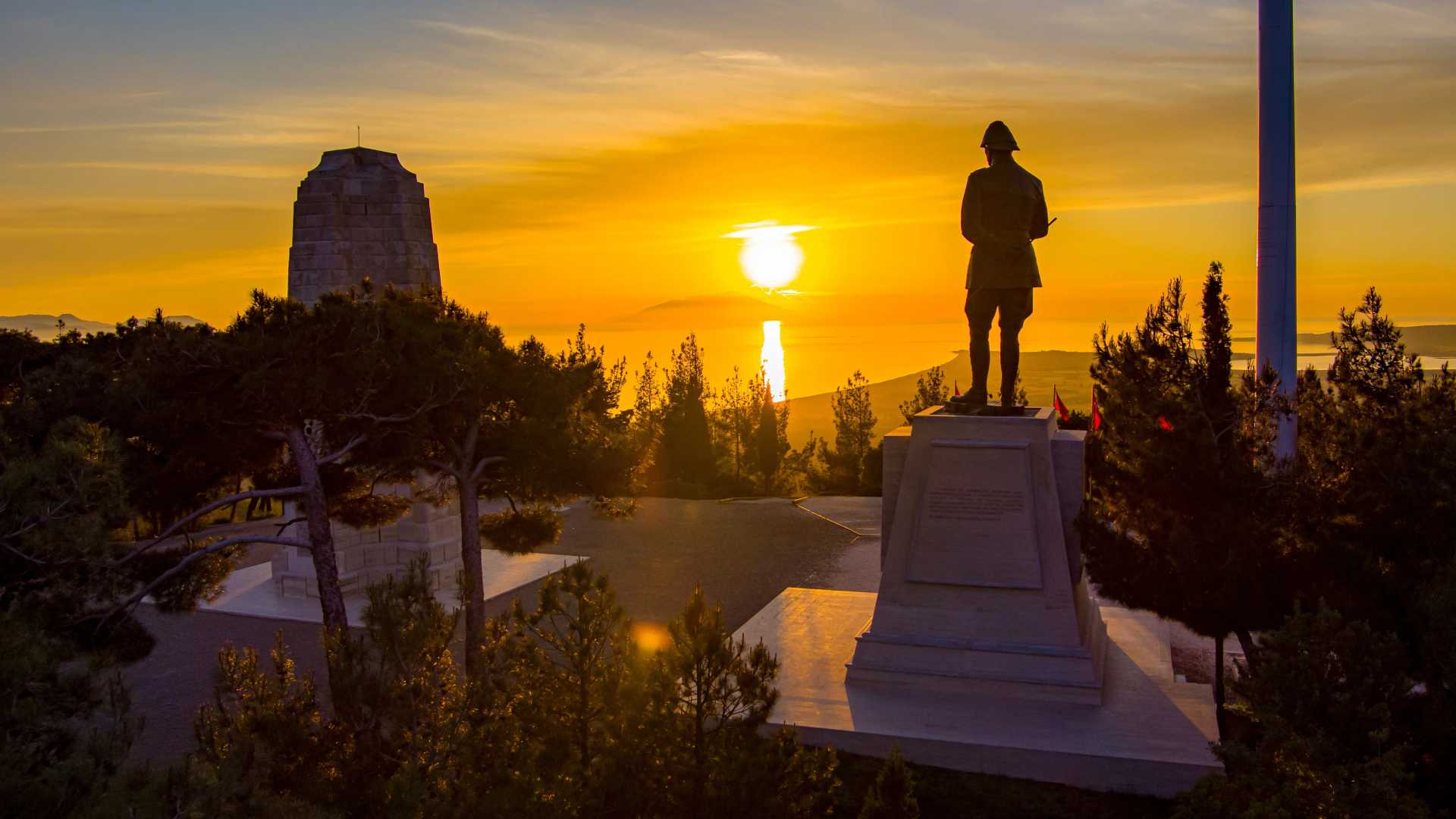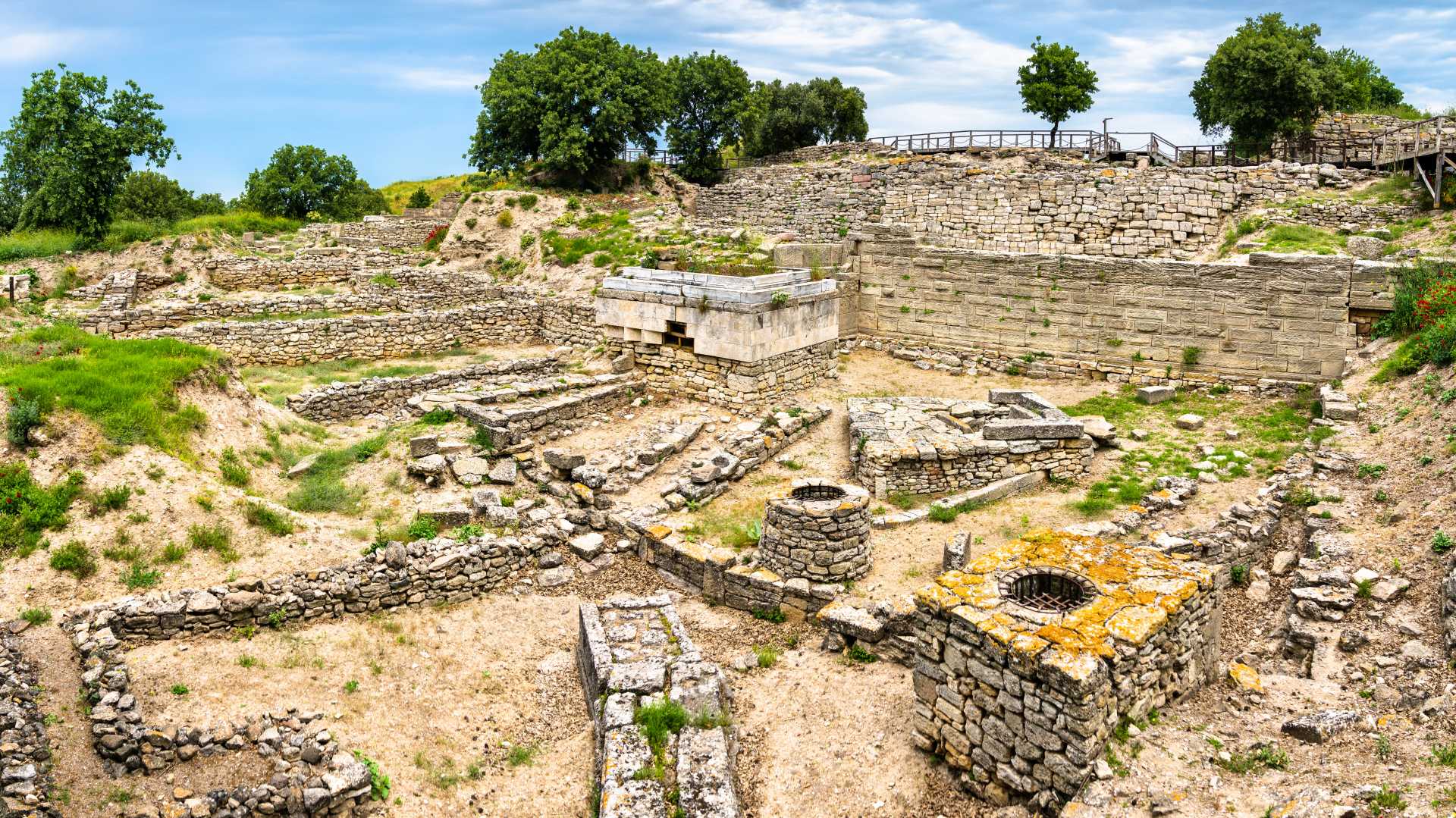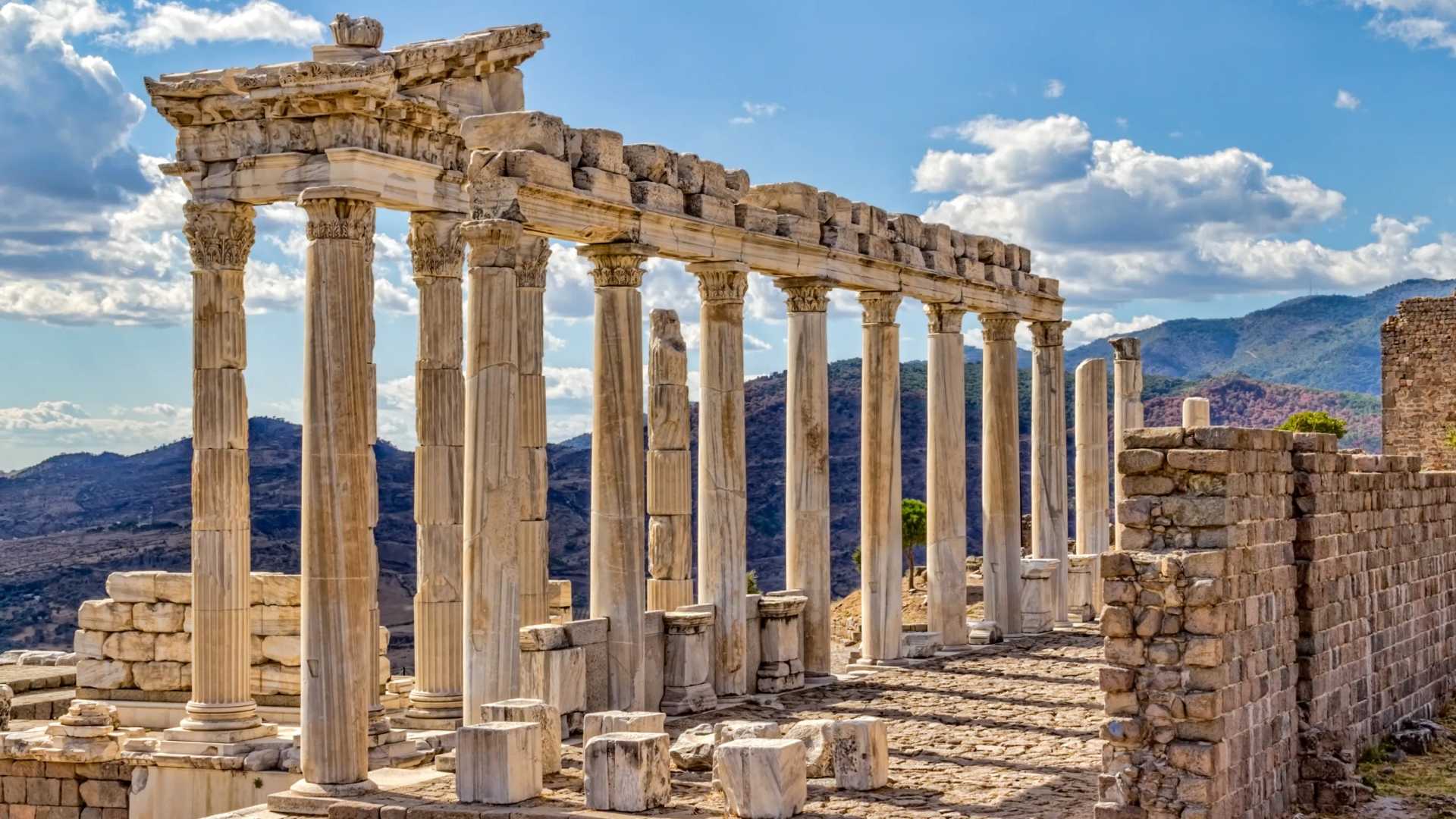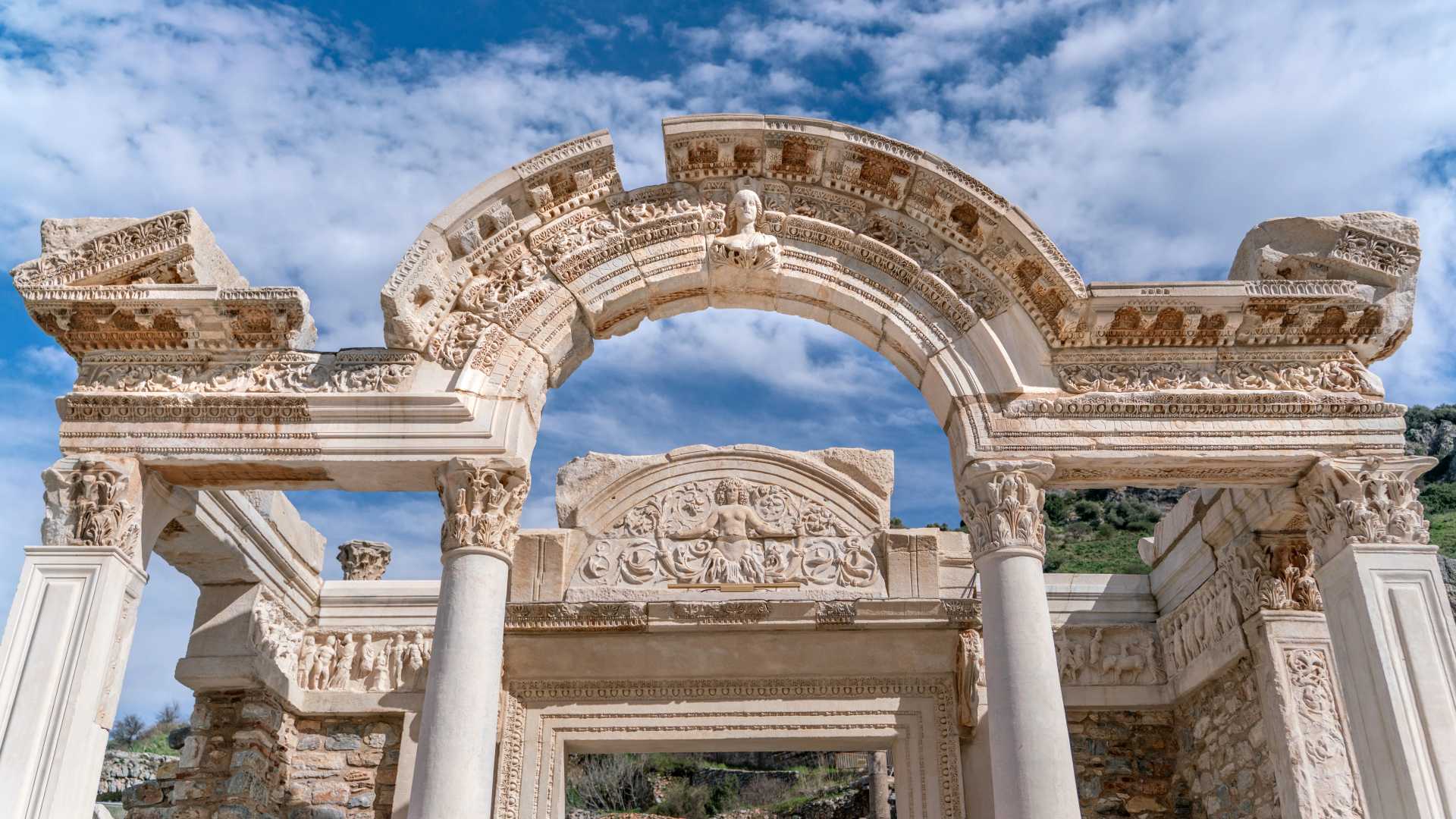 Temple of Hadrian - Ephesus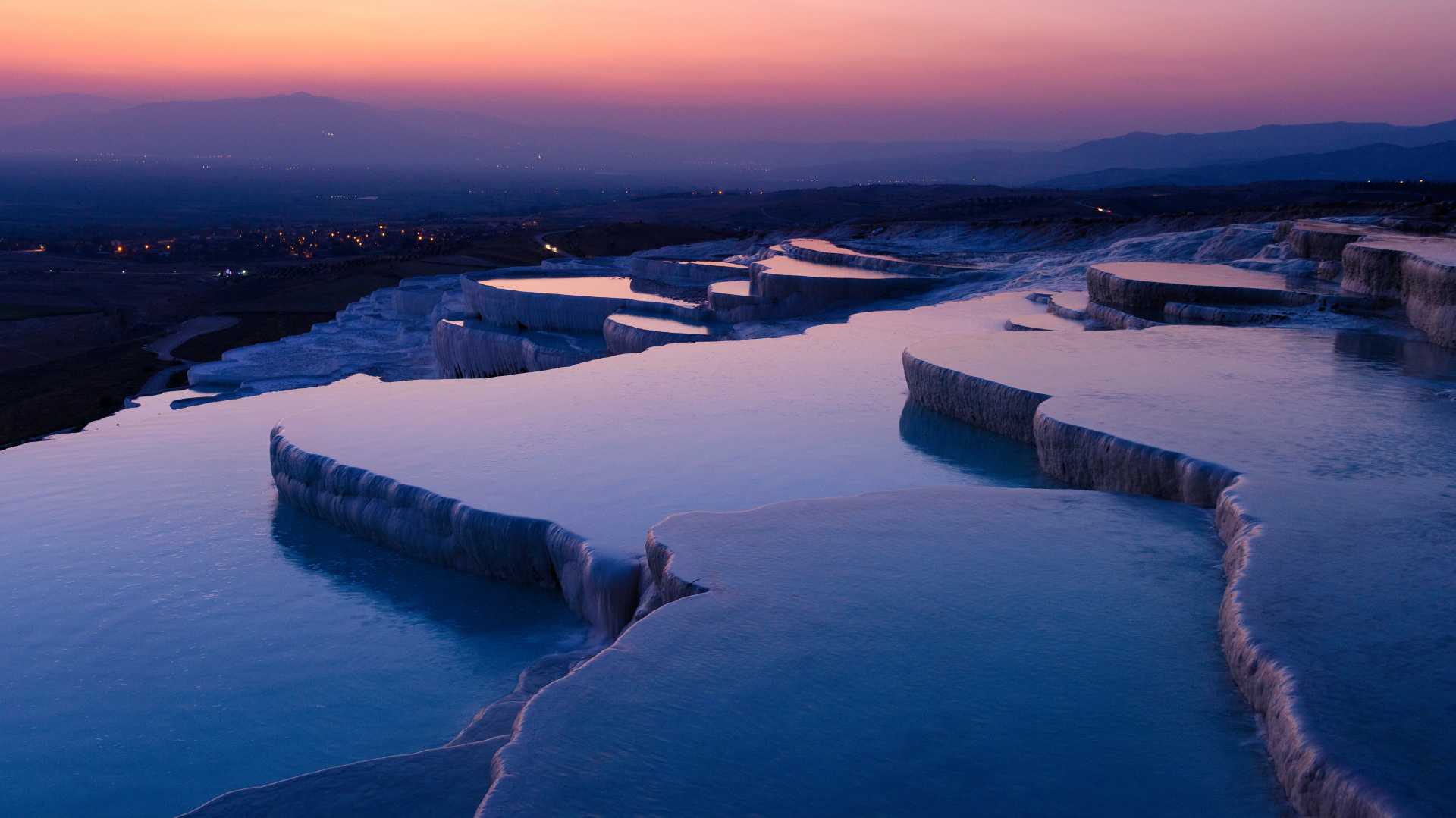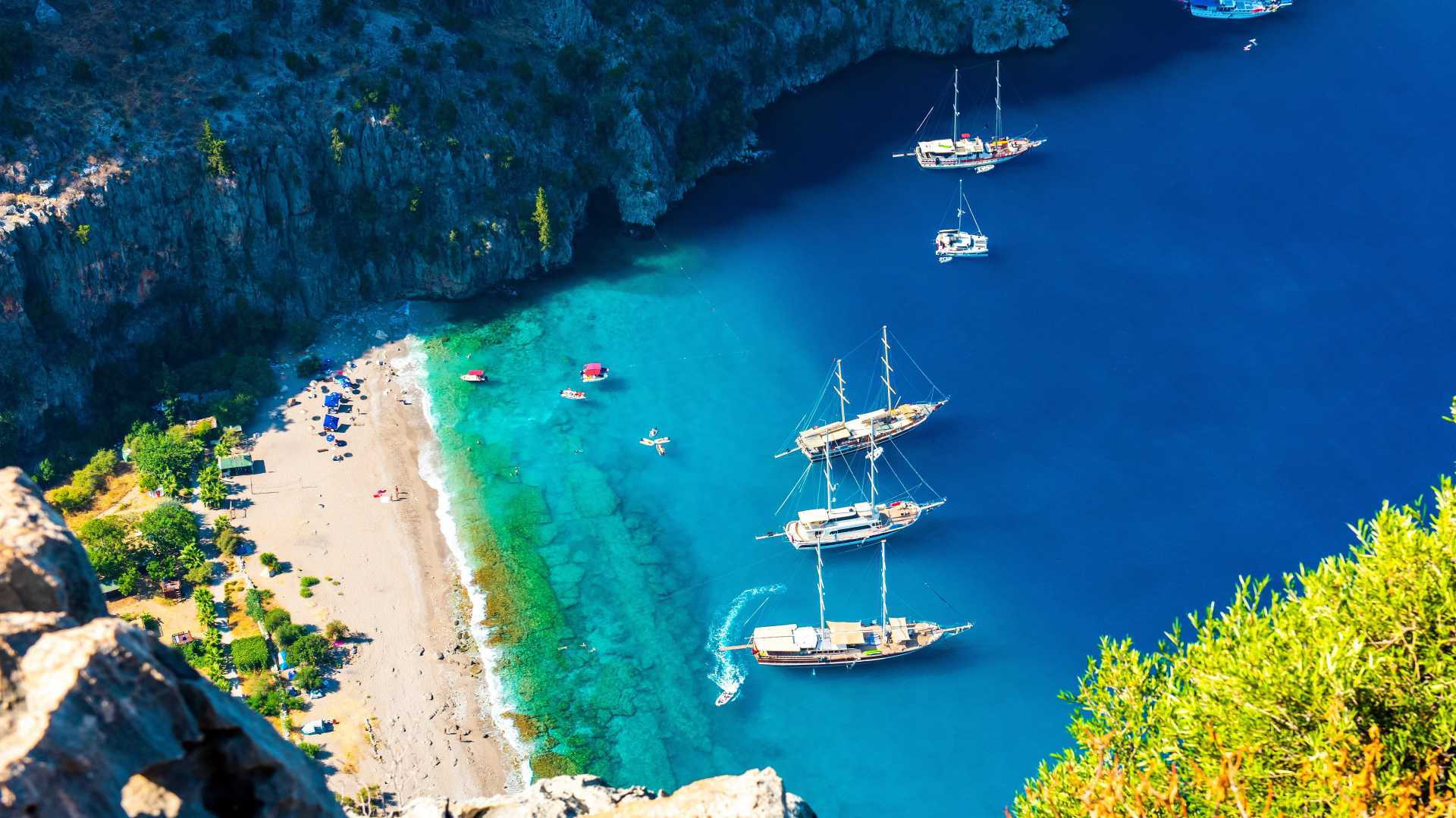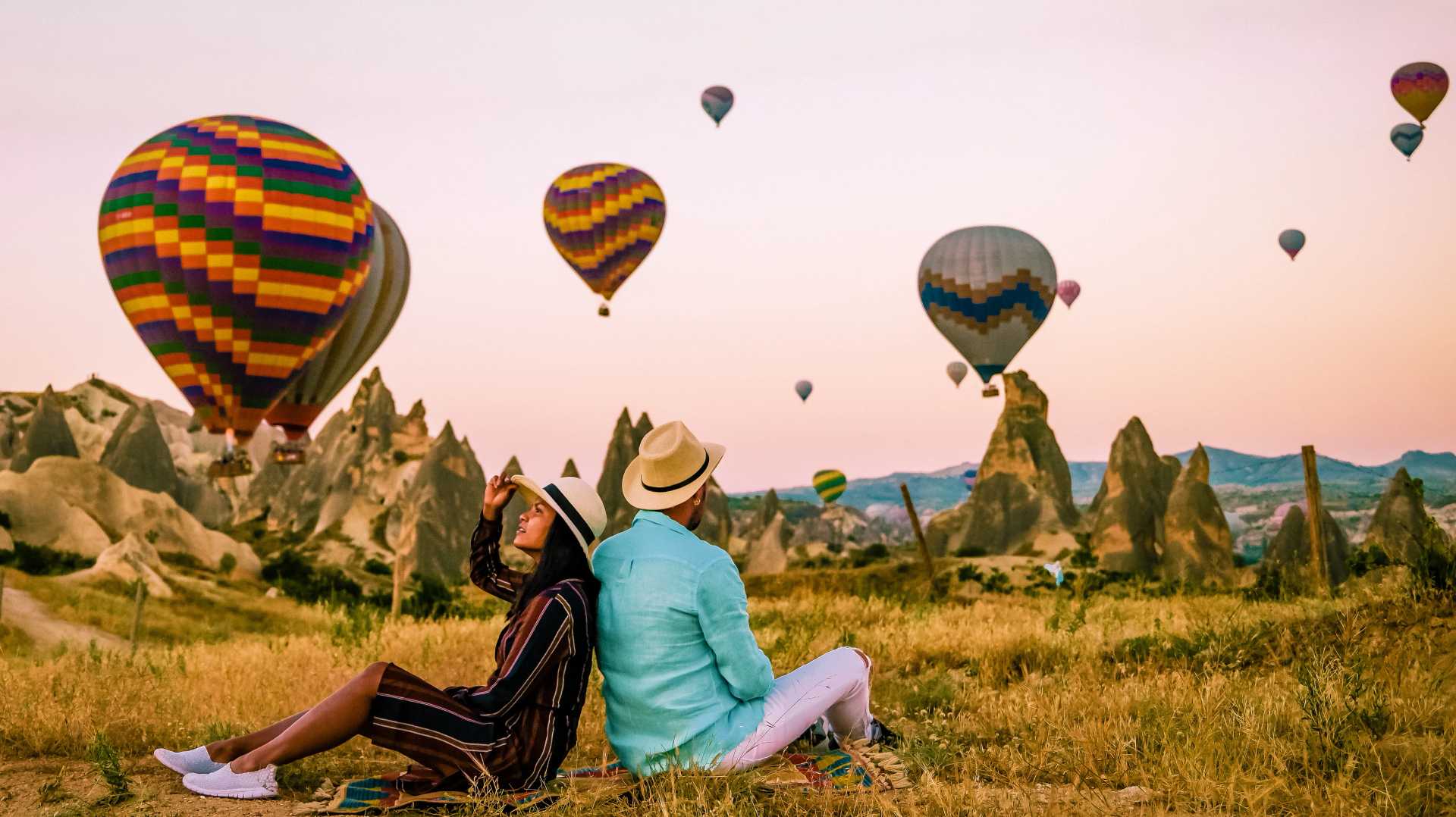 Hot Air Balloons - Cappadocia
Turkey in 14 Days
Duration: 14 Days / 13 Nights
Destinations: Istanbul, Gallipoli, Troy, Pergamon, Ephesus, Pamukkale, Aphrodisias, Marmaris, Fethiye, Cappadocia
Travel Style:
Places You'll See
Hippodrome of Constantinople
Library of Celsus - Ephesus
Uchisar Castle from Pigeon Valley
Derinkuyu Underground City
Tour Map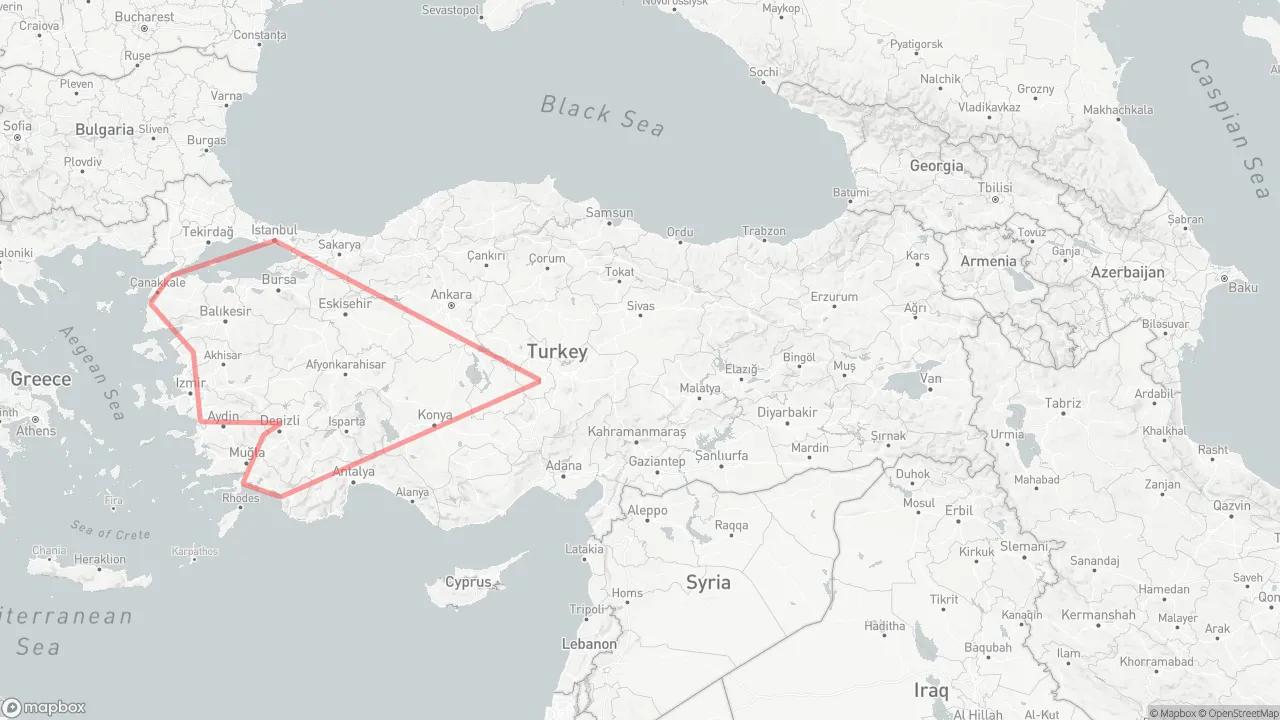 Tour Plan
Day 1 -

Arrive in Istanbul

Upon arrival at Istanbul Airport, our driver will pick you up from the international arrivals and will drop you at your hotel. Our guide will meet you at the hotel for orientation in Istanbul and a night out to get the city's feeling in the afternoon. Our guide will drop you at your hotel then for an overnight in Istanbul.
Day 2 -

Walking the Old City

Our guide will take you on tour in the old city of Istanbul, Constantinople's new name. After a short walk in the Hippodrome, you will continue to Sultan Ahmed's Mosque, known as the blue mosque, thanks to the blue tiles decorating the structure from the top to the toe. You will continue to Topkapi Palace, which is beautiful housing relics from the Ottomans and holy relics from Egypt. You can enjoy your coffee with spectacular views of Bosporus from the palace's terraces and continue to lunch. After lunch, you will take a comprehensive tour of the Hagia Sophia, decorated with beautiful mosaics coated with gold. The high dome of Hagia Sophia has inspired many monuments in Anatolia for centuries and still does. Yerebatan underground cistern will be visited next to see a huge water reservoir that supplied Constantinople and Istanbul's palaces. Our guide will drop you back at your hotel then for an overnight in Istanbul.
Day 3 -

Cruise the Bosporus and the Oriental Bazaars

Our guide will pick you up from your hotel after breakfast for an experience you will never forget; a Bosporus cruise. Istanbul is on both the European and Asian continents, which makes the city unique in the world. You will sail between each continent for 1,5 hours and arrive back at Eminonu to visit the Spice Market called Misir Carsisi by the Turkish people. You will walk over the impressive and lively Halic Bridge. Karakoy is becoming more popular day by day among the locals, and you will have lunch and taste some street food there before taking one of the oldest subways in the world, Tunel. It is a funicular built during the Ottoman times and took the rich of Karakoy to the bustling Beyoglu district of Istanbul, which is the melting pot of the old and new traditions of the city. You can experience the nostalgic tram running along the pedestrian street of Beyoglu and easily feel the city. Then, our guide will take you to the Galata tower for beautiful views of Istanbul. We then continue to Grand Bazaar if you still have the energy, or our guide can drop you back at your hotel.
Day 4 -

Istanbul to Gallipoli

Most dramatic clashes took place in Anatolia during WWI, and Gallipoli is on of the most tragic ones. It is 4 hours away from Istanbul, and our guide will take you there after breakfast at your hotel. You will visit the battlefields where Anzac forces fought against the Ottoman soldiers, and the outcome of those clashes changed the flow of history. Anzac Cove, Lone Pine, Walkers Ridge, Queens Post, and Johnston's jolly are located just a stone's throw away. You will immediately recognize the sphinx used as a landmark by the Australian and New Zealander soldiers during the war. We continue to Eceabat to ferry from Europe to Asia to Canakkale city, an attractive promenade. If you would like to see a copy of the Trojan horse used in the movie of Troy, take a walk in the evening in the city. You will stay in Canakkale tonight.
Day 5 -

Troy & Assos

You will visit another legendary battlefield today one hour later than leaving your hotel. Our guide and driver will take you to Troy's ancient city, where the Trojan war took place, as stated in 'The Iliad' of Homer. Called Wilusa before, Troy had always been the center of trade between the Greeks and the Hittites that you can see in 12 layers of civilization established on a hilltop. After a walk in the ancient site and hearing the heroes' voices fought during the legendary war, you will continue to Assos. This small ancient city is located an hour away from Troia and has spectacular views of the Aegean Sea and Lesvos Island. Aristotle used to study ecology and zoology here in Assos and was directing a group of philosophers before running away from the Persians to Macedonia. He tutored the little son of his friend Philip II who is known as Alexander the Great today. After seeing the Temple of Athena there, you will drive down to the coast to have lunch in new Asos, full of waterfront hotels and restaurants. 3-hour drive awaits you afterward, which will bring you to one of the most important cities of ancient times; Pergamon. You will overnight in Bergama, which is the current name of the city today.
Day 6 -

Pergamon

We are proud of Bergama because she is the last registered city by UNESCO in Turkey. After breakfast in your hotel located in Bergama's old city, our guide will take you on a comprehensive tour of Pergamon. You will first visit the Asclepieion, used as a hospital by the Greeks and Romans for many centuries. The complex's name comes from the God of Medicine Asclepius of Greeks. It is believed to be the first place where the doctors used music and psychotherapy for healing the patients. You will continue to the Acropolis than see the city's administrative structures and the Temple of Zeus's foundations, cited in the New Testament. The ancient city has a Temple dedicated to Trajan, which overlooks the steepest theater of Anatolia. You will continue to the modern Bergama city for lunch and visit the old bazaar of the city. Our guide will take you to Red Hall, a Temple built for an Egyptian God. The healing center of Serapis was converted to one of the churches of revelation in Anatolia. At the end of our tour of Bergama, you will drive to Sirince Village overnight.
Day 7 -

Ephesus and the House of the Virgin Mary

Ephesus is also registered by UNESCO, and you will be able to visit it in the morning after a peaceful breakfast in the garden of your hotel in Sirince. Our guide and driver will take you to the house of the Virgin Mary first, and you will be able to explore the ancient city of Ephesus until lunchtime. Majestic structures will amaze you as you walk on Ephesus' marble streets and see the worldly life of the Ephesians spent in houses with mosaics, the Library of Celsus, and the biggest theater of Anatolia. The city has two agoras showing us the volume of trade between the Aegean waters and Anatolia. It is hard to believe that it was located by the water just 13 centuries ago. Like Troy, the city lost fame when the port was silted up and made people leave the city. A short stop will be made before lunch by the Temple of Artemis, one of the World's Seven Wonders. You will continue to lunch then visit the Museum of Selcuk to see the relics unearthed from Ephesus. You will be dropped at your hotel in Sirince then to rest and enjoy a free late afternoon in the old Greek village.
Day 8 -

Pamukkale & Aphrodisias

After breakfast at your hotel, our guide and driver will pick you up for your Aphrodisias and Pamukkale tour. It will take 2,5 hours to get to Aphrodisias, but the ancient city's marble statues and structures will make you forget every moment spent on the road. The ancient city was discovered accidentally by a world-famous photographer while he was picturing the villagers there, and excavations finished has unearthed a beautiful city dedicated to Aphrodite. The tetrapylon and the Temple of Aphrodite are the most prominent structures to see, along with the jaw-dropping Stadium, the biggest one in Turkey. After visiting the museum located inside the ancient site, you will have lunch in a restaurant located nearby and travel another hour to get to the Pamukkale – Hierapolis. Pamukkale means cotton castle in the Turkish language because of the white travertines embellishing the Hierapolis ancient city's slopes. You will first explore the biggest Necropolis of Anatolia and see the pool of Cleopatra, which is very popular among the visitors. The Nymphaeum is located right behind the pools along with the temple of Apollo. Saint Philip, the apostle, was crucified in this ancient city, and his martyrdom is located a few yards from the theater of the city, which has phenomenal views of Denizli plains. The Roman Baths of the city are converted to a small museum where you can see the best examples of marble sarcophagus of the Roman and Hellenistic times. You will continue to the white travertines then for a walk and feel the holy city's warm thermal waters. At the end of your tour, our guide and driver will drop you at your hotel in Pamukkale to rest for tomorrow.
Day 9 -

Pamukkale to Marmaris

After breakfast at your hotel, our driver will take you to Marmaris, which is located 3,5 hours away from Pamukkale. You will meet with the other gulet participants you will be staying with for the upcoming three nights and sail on Turkey's Turquoise Coast. Boarding starts at 15:30, and after dinner, a night out in Marmaris city is recommended since she has a beautiful nightlife. You will spend the night at the harbor.
Day 10 -

Set Sail to the Turquoise Coast

Breakfast will be served on the deck, and you will be informed about your mini-cruise itinerary afterward. Your gulet (Turkish wooden yacht) will depart to Ekincik Gulf overnight, where you can take a small boat trip to Dalyan, which has mud baths that will make you feel younger. A swim in the Caretta-Caretta beach is recommended as well before getting on board for dinner. Your boat will be in Ekincik gulf tonight.
Day 11 -

Sail from Ekincik to Gemiler Island

You will leave early today on the way to Gemiler Island, where you will spend the night. The island has a church built for Saint Nicholas (Santa Claus), and a walk up to the church is recommended after a swimming break. You will have your last dinner on board and rest for tomorrow on board.
Day 12 -

Disembark & Fly to Cappadocia

You will have your last breakfast and sail to Turunc Pinari for lunch and swimming. Then you will continue to Port of Fethiye and check out your boat. Our driver will pick you up from your crew and take you to Dalaman Airport to fly to Cappadocia via Istanbul. Our guide and driver will pick you up from the airport and assist you in your cave hotel overnight in Cappadocia.
Day 13 -

Hot Air Balloon Flight & Tour of Cappadocia

Our driver will pick you up from your hotel before sunrise to take you to an unforgettable experience. After a light breakfast served in the company of your pilots, you will be driven to the takeoff area and watch the preparations of your hot air balloon. When you take off and start seeing the spectacular Cappadocia region from a very different perspective, you will never regret the early wake-up. After enjoying the natural volcanic landscape and wonders of Cappadocia from the basket, you will land and celebrate it with a glass of champagne. Your pilot will sign your flight certificates, and you will be dropped back to your hotel to rest for the second portion of the day.

After enjoying your second breakfast at the hotel, our guide and driver will take you on a comprehensive Cappadocia tour. You will start with the Ortahisar town to see an old Greek village built on gigantic fairy chimney slopes. You will continue to Goreme Open Air Museum, which was listed by UNESCO in 1985. After visiting the rock-cut churches painted with beautiful late Byzantium frescoes, you will have lunch in a local restaurant in Goreme or Avanos. A visit to a pottery workshop is recommended. Simultaneously, in Avanos town, since the kick wheel invented in the Middle East was developed in this town by the Hittites and today, people still carry on their ancestor's techniques to produce beautiful works of art. You will drive to Ozkonak town than to visit the Underground city of Ozkonak. You will descend into the ground to explore the caves used for shelters and wine cellars and be surprised about these cave dwellings' cooler atmosphere. Your journey will continue to the valley of imagination to see very interesting fairy chimneys in the form of animals and figures. Monks Valley is located nearby and has the most beautiful fairy chimneys in the region. It is called Pasabag by the locals, and you can taste fresh apricots and grapes if you are traveling in the season of those fruits. Our guide will recommend a sunset as well if you would like to continue to rest well during your last night in Cappadocia.
Day 14 -

Fly Back Home

Enjoy your last breakfast at the terrace of your hotel before our driver meets you to drop you at one of the airports of Cappadocia for a flight back to Istanbul and home
---
Would you like us to customize Explore Turkey in 14 Days itinerary for you? Imagine dealing with only one person for all your travel details, receiving private itineraries, and recommendations that will fit your travel interests. Contact Turkey Tour Organizer to get a personalized day by day itinerary for your trip to Turkey. Benefit from our expertise. We offer tailor-made tours to Turkey for all interests and desires, from romantic honeymoons and scenic self-drive road trips to photo tours with experienced photographers and cultural tours in major destinations. We arrange everything for your turkey tours, including hotel bookings, airport transfers, guided tours, and top-notch experiences. We want you to have a great time in Turkey and make sure your trip is a memorable one as we have escorted so many tours in Turkey personally.
---
Turkey in 14 Days
Duration: 14 Days / 13 Nights
Destinations: Istanbul, Gallipoli, Troy, Pergamon, Ephesus, Pamukkale, Aphrodisias, Marmaris, Fethiye, Cappadocia
Travel Style:
Contact Us
Frequently Asked Questions
Why Choose Us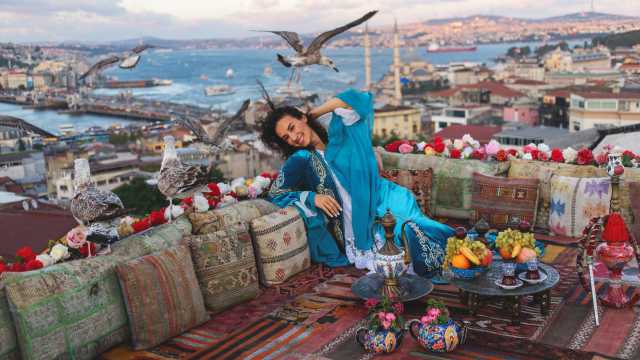 We Develop It into Something Extraordinary
We can obtain exclusive amenities that you are unable to get on your own, such as complimentary breakfast, spa credits, or hotel upgrades. We understand the importance of planning an extraordinary trip, from the big-picture details (where to travel and when) to the details that count (knowing where to find the most delicious pottery kebab in Cappadocia).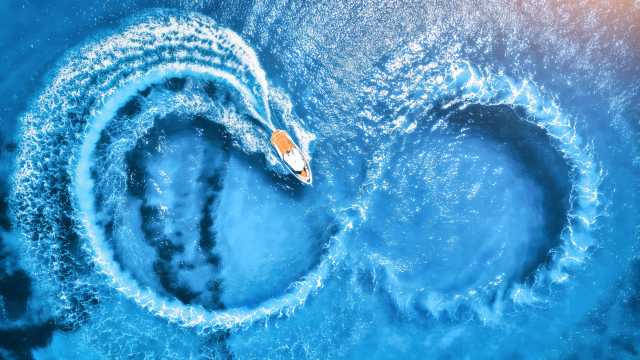 We Know Turkey in Deep Details
It makes sense to commit your most valuable asset - your time - to a seasoned travel advisor, just as you might utilize a financial planner, an interior designer, or a personal shopper. We spend a lot of time traveling, looking for accommodations, getting to know our tour guides better, and discovering the top attractions.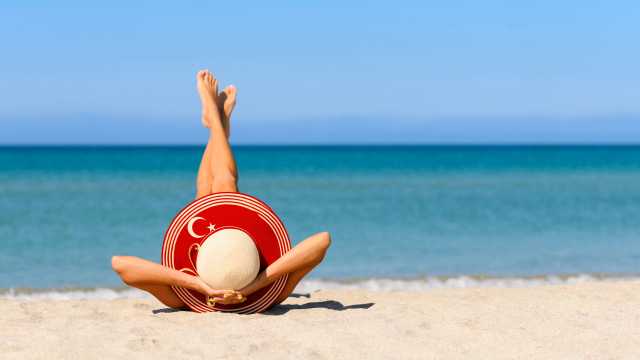 We Discover Your Travel Mindset
We are aware of your top priorities and those of your traveling companions. You could want to sign up for a private tour or a culinary lesson, or you might not want to leave the resort's pool at all! Maybe you want to use travel to teach your children, organize a memorable vacation for your anniversary, or gather your loved ones together to commemorate a significant birthday. We'll have a ton of ideas about what would suit you the best.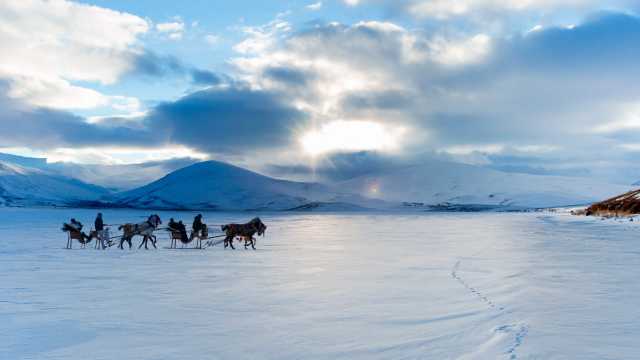 We Can Widen Your Perspective
We will assist you in producing original ideas for where to go and what to do. Istanbul, Cappadocia, and Ephesus will always be well-liked. But we also know the best ways to enjoy locations including Pergamon, Troy, Pamukkale, Antalya, Southeast Turkey, and many more popular travel destinations. We can arrange your upcoming ideal vacation or weekend escape together.